Everybody Get Sued! Marvin Gaye's Family's Suit Against Robin Thicke & Pharrell Hits L.A. Court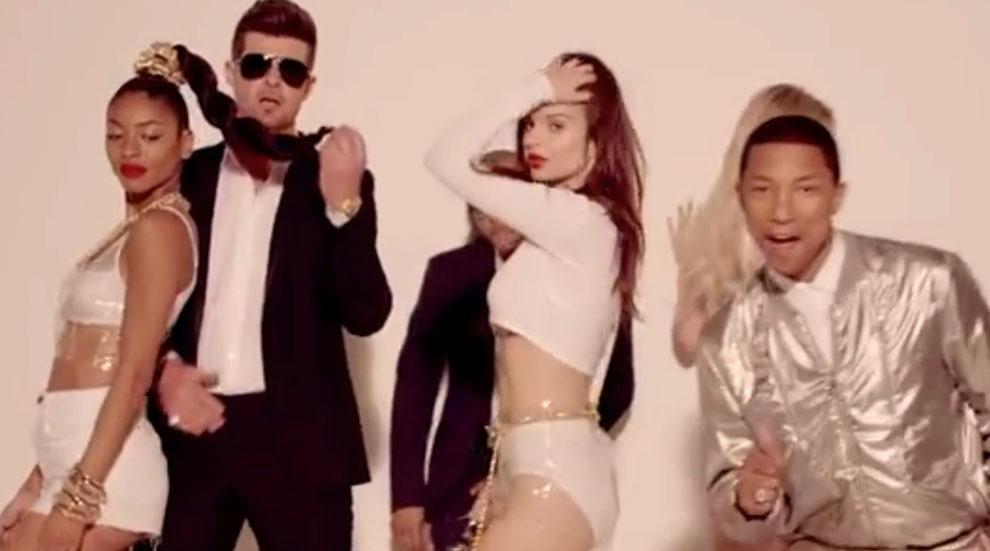 Robin Thicke and Pharrell Williams were in a Los Angeles courtroom Tuesday, as the trial kicked off in their copyright dispute over the smash hit, "Blurred Lines."
The music stars are embroiled in a multimillion legal dispute with Marvin Gaye's relatives over how much of they used of the late soul singer's 1977 hit "Got To Give It Up" to compose their controversial summer hit.
Richard Busch, lawyer for the Gayes, told jurors Thicke and Williams "will wink at you and they'll be charming -- But keep one thing in mind: they are professional performers."
Article continues below advertisement
"The evidence will show 'Got To Give It Up' was used as a blueprint for 'Blurred Lines,'" Busch said, noting that the two songs having much in common was "not random."
The musicians' attorney Howard King, who is representing Thicke, Williams and T.I. (who was not in court), said that the Gaye family's claim that the song made $40 million is way off-base, and that "no one owns a genre or a groove," making the plaintiffs' claims bogus.
King said the trio of hit-makers "didn't copy Marvin Gaye," but rather "created the song as they have for the other hundreds of songs they've written."
Neither Thicke or Williams had ever been sued for copyright infringement in their careers, King added.
At one point during the proceedings, a "Blurred Lines" instrumental was played with Gaye's voice on the track, to which the hunky son of Alan Thicke angrily shoot his head and said, "It doesn't work."
Regarding the song's writing credits, the "Happy" singer owns 65 percent, the "Give It 2 U" singer owns 22 percent and T.I. accounts for 13 percent.
Thicke was expected to testify during Wednesday's proceedings.