It's In The Genes! See Alan Thicke Cut A Rug 25 Years Before Son Robin's Blurred Lines Superstardom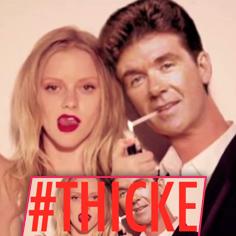 We can quit calling Robin Thicke's Blurred Lines the "song of the summer."
With more than 130 million Youtube views since its' springtime release, and record-breaking radio numbers, the soul singer's collaboration with T.I. and Pharrell (not to forget video models Emily Ratajkowski, Jessi M'Bengue, and Elle Evans) is a heavy front-runner for song of the year.
http://youtu.be/yyDUC1LUXSU
With that said, Robin's not the first singer-songwriter in the family: His father Alan (best known for playing the father on the 80s hit Growing Pains) has an extensive musical background, with writing credits on many iconic jingles, such as the theme songs from Diff'rent Strokes, The Facts of Life as well as Wheel of Fortune.
Article continues below advertisement
http://youtu.be/XSDRx55Wzmw
And with his son's breakout success, many have shined a new light on the elder Thicke's achievements in sound, with lots of Youtube traffic based on his own past performances, as well as parodies and mash-ups incorporating the 66-year-old dad into his son's smash hit.
http://youtu.be/ZoQ4ZuiSh8A
The proud papa Monday defended his son's hit against critics who call out the song's lyrics for rape overtones, and the video itself for objectifying women.
"I think that there are blurred lines within the 'Blurred Lines,'" Alan, 66, told The Canadian Press. "T.I.'s rap is kind of graphic, Robin's point of view I think in his own parts of the song ... is kind of female empowerment when you look at it.
Watch the video on RadarOnline.com
"It's not so much 'we know you want it' -- it's 'we hope you want it.' It's still a guy waiting for permission, saying 'I'm not your maker.' Nobody grabs anybody. We're waiting for permission here. And not only that, but it's guys trying to be cute and funny. This is not a lascivious video. There's no humping and grinding as we've been seeing in music videos for two decades now … we're not doing the Anthony Weiner story here, they're just kind of putting it out there playfully and we'll see who responds."
http://youtu.be/Iqh_hXl28O8