Exclusive
More 'Blurred Lines'! Marvin Gaye's Children Say Robin Thicke, Pharrell Williams, And T.I. Are Playing Dirty Games In Legal Battle Over Song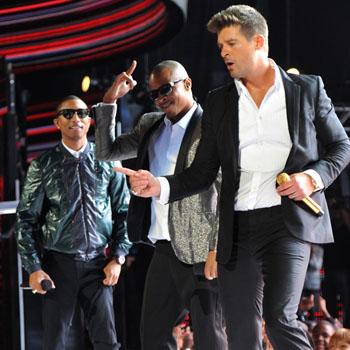 The lines are getting more and more blurred in the bizarre legal battle between Robin Thicke, Pharrell Williams, and T.I. and the children of the late Marvin Gaye.
Now Gaye's kids Nona and Frankie are accusing the trio behind the hit "Blurred Lines" of playing dirty games, RadarOnline.com has exclusively learned.
In August 2013, Thicke, Williams, and T.I. (known by his real name, Clifford Harris, Jr.) filed a preemptive lawsuit over their song after Marvin Gaye's estate and Bridgeport music reportedly threatened action against Thicke and his co-creators because "Blurred Lines" is too similar to Gaye's "Got to Give It Up" (and also Funkadelic's "Sexy Ways").
Article continues below advertisement
You Can Sue For That? The 53 Wackiest Lawsuits
Thicke's camp asked the court to rule that "Blurred Lines" was an original work.
In the lawsuit, Gaye's family was accused of making an invalid copyright claim since only expressions, not individual ideas, can be protected. Williams has called the two songs "completely different."
But in response, Gaye's children countersued Thicke and his producers, as well as EMI April, a smaller music publishing company owned by Sony/ATV, saying EMI April failed to protect the Gaye catalogue. While Gaye's family members and the music publisher reached a settlement, they're still duking it out in court with the "Blurred Lines" trio.
Now, according to legal documents obtained by Radar, Nona and Frankie Gaye are asking the court to quash the other side's subpoena of their expert musicologist witness, Lawrence Ferrera.
This month, the Gayes said Thicke, Williams, and T.I.'s camp served Ferrera asking for documents, reports, opinions, and conclusions regarding his work for the family. Through his work for the Gayes, musicologist Ferrera allegedly sought to prove that "Blurred Lines" was stolen.
According to the motion to quash, the Gayes claimed, "it would be unfair to allow a party to benefit from the effort and expense incurred by the other in preparing its case and...permitting on party to call an expert previously retained or consulted by the other side."
The legal documents also show the Gayes think the musicians' subpoena of Ferrera is "improper, irrelevant, and baseless. There exists no reason to subpoena Ferrera other than their sheer frustration at Ferrara's unavailability to be an expert for them or sheer envy, if in fact, we retained him first."