Exclusive
O.J. Simpson Under Fire: Fred Goldman Vows To Stop His Son's Suspected Killer's Latest Money Scheme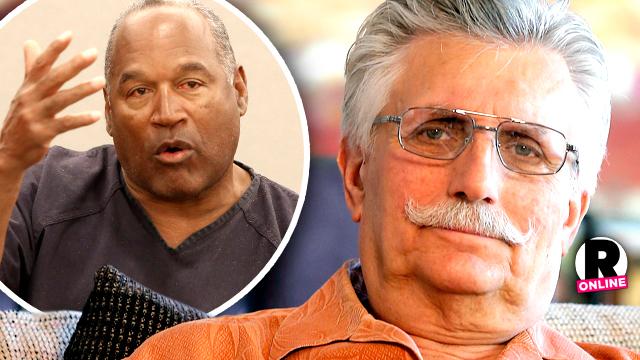 The O.J. Simpson road show could very well be a limited engagement.
Now that the disgraced former NFL star's appeal from a Nevada prison is in the hands of the state Supreme Court and his sights are set on freedom, he's already planning a college speaking tour to make some needed funds.
But Ron Goldman's father plans to put an end to his cash-making endeavor before it even begins!
"To say he wants to go on a college tour and he wants to talk about how wonderful he is -- well, he's not a wonderful guy," Fred Goldman exclusively told RadarOnline.com. "I can't imagine any worthwhile university wanting him there and telling the world what a wonderful guy he is. He's not!
Article continues below advertisement
"The truth is, he beat his wife, with a deadly weapon and he's in jail for robbery and kidnapping. He is where he belongs—in jail. I hope he rots and dies."
The 67-year-old Simpson has been lobbying for release from Lovelock Correctional Center where he has been serving up to 33 years for his part in the 2008 kidnapping and armed robbery of two sports memorabilia dealers in a Las Vegas hotel.
Thirteen years after he was acquitted in Los Angeles in the stabbing deaths of his ex-wife Nicole Brown and Ron, the former USC running back maintains his innocence in the robbery case, claiming that he was merely trying to take back items that were stolen from him.
Simpson's lawyers have long argued that his former attorney Yale Galanter botched the case.
But given that the Heisman Trophy winner was previously denied an appeal in 2010, Fred doesn't have high hopes that Simpson will be a free man any time soon.
"I don't see what else he can prove that shows his attorney did anything wrong to cost him the verdict," he told Radar.
"When he did have a chance to address the court he never denied he did any of it. He said 'I didn't mean to do anything; I just wanted to get my stuff back.' And he did get his stuff back and now he's in jail.
Article continues below advertisement
"He always has been and always will be a bad guy."
But Simpson's promoter, Norman Pardo, doesn't think the educators of America will feel the same way, even though "all hell broke loose" at a "test" gig when about 1,000 parents protested at Clarkston High School in Michigan last April.
Norman previously said that he plans to use videos of "The Juice," who will live chat from his prison cell if he has to in order to explain what really happened the night in 1994 when the brutal murders took place.
But Fred will do anything to halt the so-called shows, which Norman said make from $3,500 to $7,000 a pop.
"He wants to make money off of murdering my son and Nicole," he said, vowing to make sure he can never profit off the killing.
"And just so he knows, we'll be there chasing him down again. I'm never going to let him rest."​