Killer Role! O.J. Simpson Wants Denzel Washington Portraying Him In TV Miniseries — Not Cuba Gooding Jr.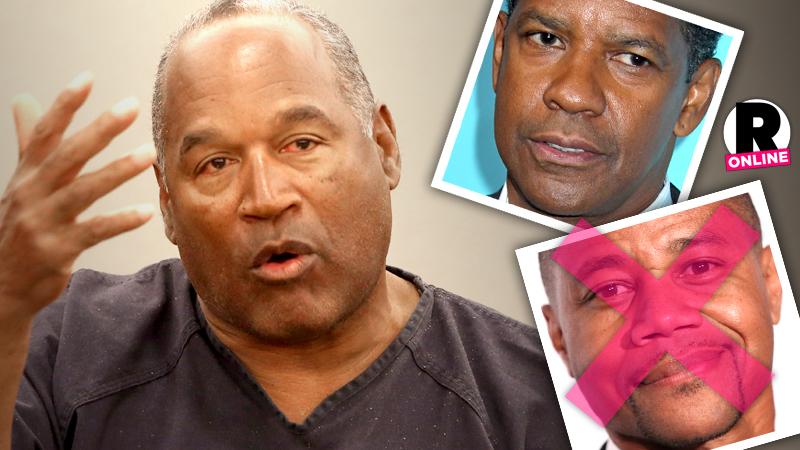 O.J. Simpson is not impressed with the choice of Cuba Gooding Jr. to portray him in an upcoming TV mini-series about his sensational murder trial, according to an exclusive report in The National ENQUIRER.
The ex-NFL star and current Nevada prison inmate thought it was a joke when he heard Gooding, 47, was cast in American Crime Story: The People v. O.J. Simpson, his longtime friend Norman Pardo told The ENQUIRER.
Article continues below advertisement
"O.J. was left with his mouth open when they picked Cuba," Pardo said. "He said, 'Why would they choose somebody like that to play me?'"
Simpson thinks two-time Oscar winner Denzel Washington would be the best choice because he has more "charisma" than Gooding, who only has one Academy Award, Pardo said.
"O.J. and Denzel knew each other, and he loves Denzel as an actor," he said. "He'd have made a good O.J."
Washington "was never mean to O.J. after the trial," when he was found not guilty of the brutal stabbing murders of his ex-wife Nicole Brown and her friend Ronald Goldman, said Pardo.
Washington and Simpson are the same height at 6-foot-1 and built similarly, while Gooding is just 5-foot-10 and significantly scrawnier, he insisted.
"Denzel and Cuba are two totally different people, with two totally different personalities and totally different sizes," said Pardo, who's also developing his own series about Simpson. "Cuba makes for a good comedian, but not a serious-looking football player. He's just too small for the job."
MORE ON:
Denzel Washington
Article continues below advertisement
John Travolta, who is also a producer for the FX show, cast himself to play Simpson "dream team" attorney Robert Shapiro, while Friends star David Schwimmer will portray the late Robert Kardashian. Los Angeles County prosecutor Marcia Clark will be played by American Horror Story regular Sarah Paulson.
When production on the 10-episode mini-series starts this spring Simpson will be nowhere near the set. He's locked up tight in a Nevada state prison serving a 33-years sentence for armed robbery and kidnapping convictions.
For more on this story, pick up the latest issue of The National ENQUIRER, on stands now.