Exclusive
Suicide Or Homicide? Shooting Death Of Mindy McCready's Boyfriend May Have Been Murder, Officials Say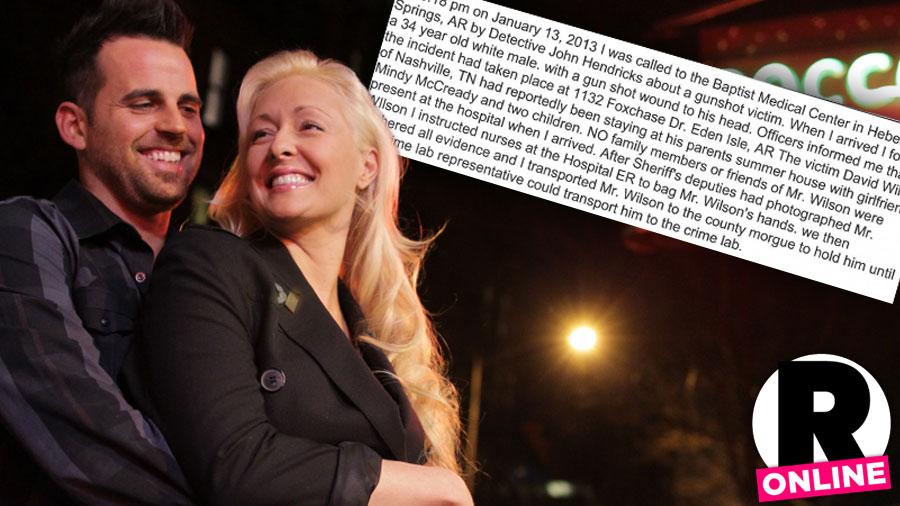 Article continues below advertisement
"The Wilson case is still considered open with insufficient evidence to conclusively determine whether homicide or suicide," prosecuting attorney Holly Meyer told RadarOnline.com exclusively.
McCready's case was closed after the 37-year-old troubled country singer and Celebrity Rehab star was found dead and fully-clothed after shooting herself (and her dog) in the head with a 9 mm Glock pistol on the front porch of her Heber Springs home, per the coroner's report obtained by RadarOnline.com.
Wilson had been found dead and partially clothed just one month earlier on the same porch, with a gunshot wound to the head. But so far, that case has been inconclusive. According to the coroner's report, the medical examiner instructed nurses at Baptist Medical Center to "bag his hands" in an effort to preserve any evidence.
With the only witnesses in what could have been a murder now deceased, authorities may never know what really happened. But McCready's mother, who spoke with the 37-year-old the night Wilson was rushed to the hospital, is convinced her daughter would never take someone else's life.
"She gave explanations and she called me immediately following David being picked up in the ambulance and he was not deceased yet," said Gayle Inge, who recalled that McCready said the father of her son, Zayne, committed suicide.
"At first that's what people thought and she thought so too," Inge continued. "I have no suspicions other than she told me."
Story developing.