Exclusive
Lester Holt Primed To Take Over 'NBC Nightly News' After Brian Williams' Lying Scandal: 'Worst Nightmare' Coming True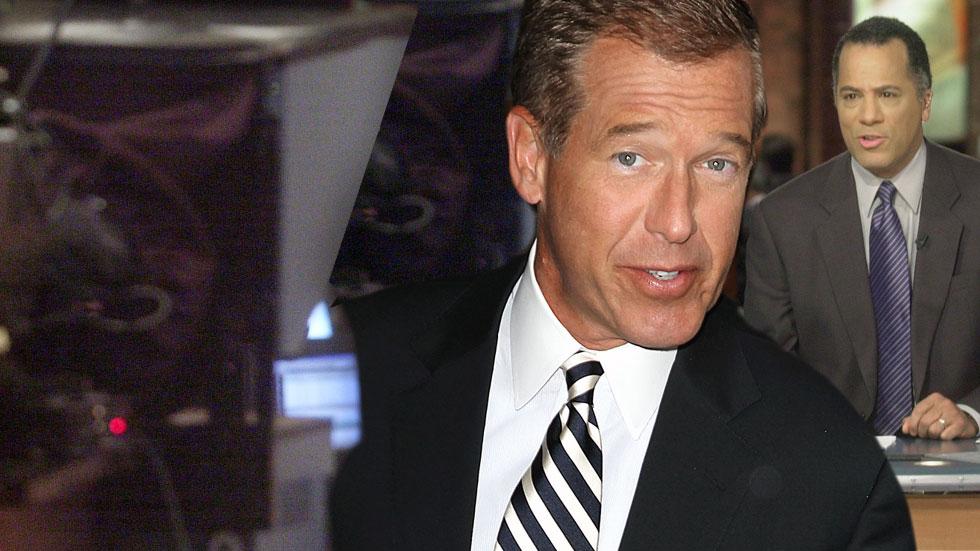 Brian Williams has insisted his time off-air was self-imposed, and will be short-lived. But RadarOnline.com has learned that the fibbing anchor is stretching the truth yet again! Insiders say that Williams was forced by NBC executives to take a temporary leave from NBC Nightly News, and the move could become permanent as staff members are already rallying around temporary replacement Lester Holt.
After Williams was exposed for lying about being shot down in a helicopter during the Iraq war, NBC News President Deborah Turness cracked down on Williams with a mandatory leave of absence.
Article continues below advertisement
"He was going to be taken off the air pending the outcome of an internal investigation to determine if he had lied about other stories," an insider told Radar. "After anchoring Nightly News on Friday night, Brian didn't think he was going to be taken off the air. NBC decided to let him issue a statement saying he was taking himself off the air, but another problem quickly arose when Brian insisted on including the claim that he would be back in a few days."
"Brian has been around for a very long time and wanted to do anything he could to box NBC into letting him resume his spot at the anchor desk as quickly as possible," the insider continued.
But meanwhile, "His worst nightmare is coming true, as the staff is embracing and rallying around his temporary replacement, Lester Holt. Lester is so well liked and trusted by everyone on the Nightly News staff and is a true team player. He could be a replacement."
Article continues below advertisement
On Saturday, Williams announced in a statement to NBC staff, "In the midst of a career spent covering and consuming news, it has become painfully apparent to me that I am presently too much a part of the news, due to my actions. As managing editor of NBC Nightly News, I have decided to take myself off of my daily broadcast for the next several days."
Williams is under investigation at NBC after admitting that he made "a mistake in recalling the events of 12 years ago."
"I said I was traveling in an aircraft that was hit by (enemy) fire," he admitted. "Instead, I was in the following aircraft."
Williams then said it was a "bungled attempt by me to thank one special veteran and by extension our brave military men and women, veterans everywhere."
Holt has been with NBC since 2000, is the anchor for Nightly News and co-anchor for Weekend Today.
It's a precarious time for the news division at NBC, as Nightly News had been the crown jewel for the struggling network after TODAY bungled Ann Curry's exit from the show, and Good Morning America took over the number one spot in the morning ratings.
But meanwhile, World News with David Muir has closed the gap with Nightly News in recent weeks, and "it obviously has everyone at NBC very nervous. This is all going to come down to the ratings, and if there is a spike while Lester fills in for Brian, well, it's pretty obvious he could be a permanent fixture behind the desk.
"The worst case scenario for NBC is that ratings begin to slide and they start coming in second place to ABC," the insider added.