Pink Slip Plea: Tom Brokaw Thinks Admitted Liar Brian Williams Should Be Fired, Insider Says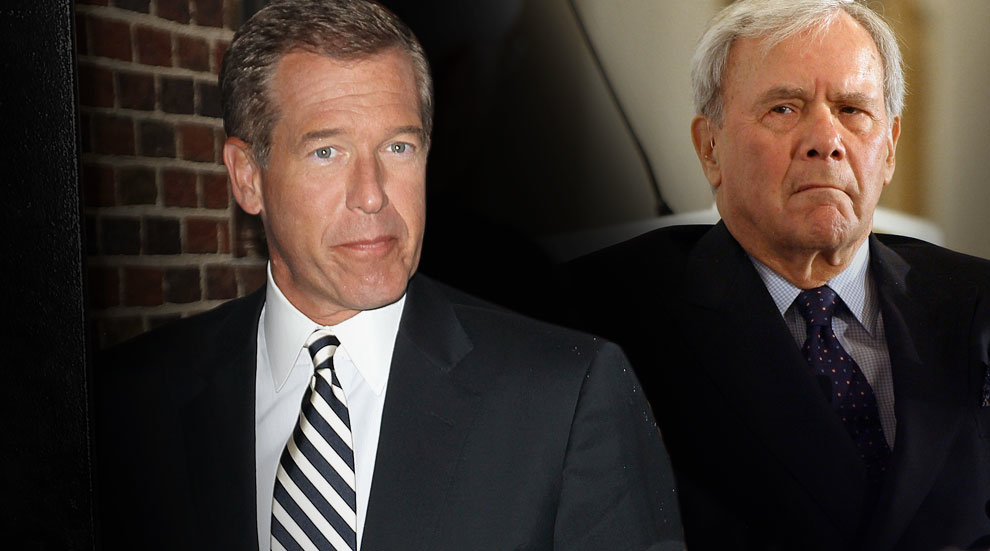 Brian Williams' admission he lied about a 2003 helicopter incident in Iraq has rankled iconic journalist Tom Brokaw, who "wants Williams' head on a platter" for the fib.​
As RadarOnline.com previously reported, the 55-year-old newsman Wednesday confessed to his longtime lie that in 2003, he was aboard a helicopter in Iraq that had been struck by a grenade; in reality, the incident happened, but he was safely aboard a separate plane at the time.
Article continues below advertisement
Brokaw "is making a lot of noise at NBC that a lesser journalist or producer would have been immediately fired or suspended for a false report," insiders tell the NY Post, adding that the 74-year-old was long aware of his colleague's fib.
"Brokaw ... knew this was a false story for a long time," the insider said, and had "been extremely uncomfortable with it."
It was business-as-usual for Williams on NBC Nightly News Thursday, and Peacock Network source said his job is safe.
Watch the video on RadarOnline.com
"He has the full support of NBC News," the source said. "He is not going to be suspended or reprimanded in any way."
The source said that those at the network believe Williams combined two actual events into one over time, and that his "apology on the air" is good enough.
Lower-level employees were not spoken to about the sticky situation, the source said, adding that "NBC bosses don't understand how serious this is.
"Nobody in a leadership position is talking to the troops; nobody has addressed it."
Watch the video on RadarOnline.com
In the fallout of the confession, Williams' claims during his coverage of Hurricane Katrina two years later have fallen into question, as the newsman said he'd seen corpses floating near his French Quarter hotel, and caught a case of dysentery after drinking floodwater.
But one local outlet, The New Orleans Advocate, said that the French Quarter was never flooded during the 2005 calamity, and quoted New Orleans health experts who said no cases of dysentery were reported following the disaster.