Brian Williams 'Sorry For The Impact' Of Iraq Lie, Reveals Leaked NBC News Memo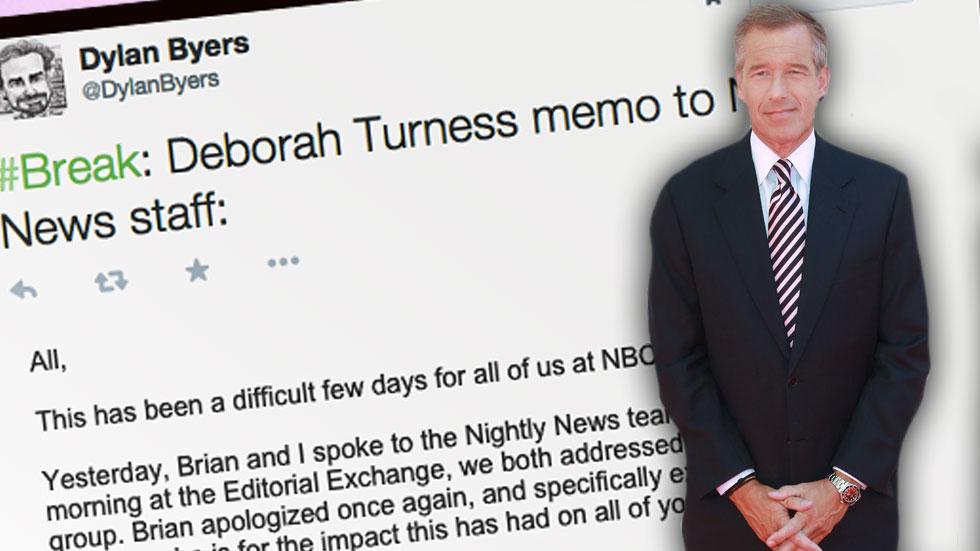 The apologies continue after Brian Williams was caught lying about being in an Iraqi helicopter under fire in 2003. The latest efforts at damage control come in a memo NBC News head Deborah Turness sent to staffers in which she told her team that the anchor is "sorry for the impact" his fib has had on the team and acknowledged the "difficult days" they are weathering as a result.
The veteran journalist, 55, has been contrite and admitted that he made "a mistake in recalling the events of 12 years ago," after the military publication Stars and Stripes broke the news of the fib when they questioned the chopper crew, who denied events unfolded in the way Williams recalled.
Article continues below advertisement
Turness addressed the scandal head-on in the memo:
This has been a difficult few days for all of us at NBC News.
Yesterday Brian and I spoke to the Nightly News team. And this morning at the Editorial Exchange, we both addressed the wider group. Brian apologized once again, and specifically expressed how sorry he is for the impact this has had on all of you and on this proud organization.
As you would expect, we have a team dedicated to gathering the facts to help us make sense of all that has transpired. We're working on what the best next steps are - and when we have something to communicate we will of course share it with you.
Since joining NBC News I've seen great strength and resilience. We are a close family, and your response this week has made that even clearer. As a relentless news agenda marches on, thank you again for continuing to do what we do best - bring the most important stories of the day to our audience.
While it seems as if Williams' bosses are supportive, former anchor Tom Brokaw "wants Williams' head on a platter" for the lie, RadarOnline.com recently reported. And although Brokaw dismissed these claims he did say the anchor's "future is up to Brian Williams and NBC News executives" to decide.
Do you believe Brian Williams should be fired from NBC News over his lie? Sound off in comments below.