Crazy Like Kramer? Ex-Marine Who Killed 'American Sniper' Chris Kyle Faked Mental Illness By Copying Seinfeld's Kramer, Doctor Claims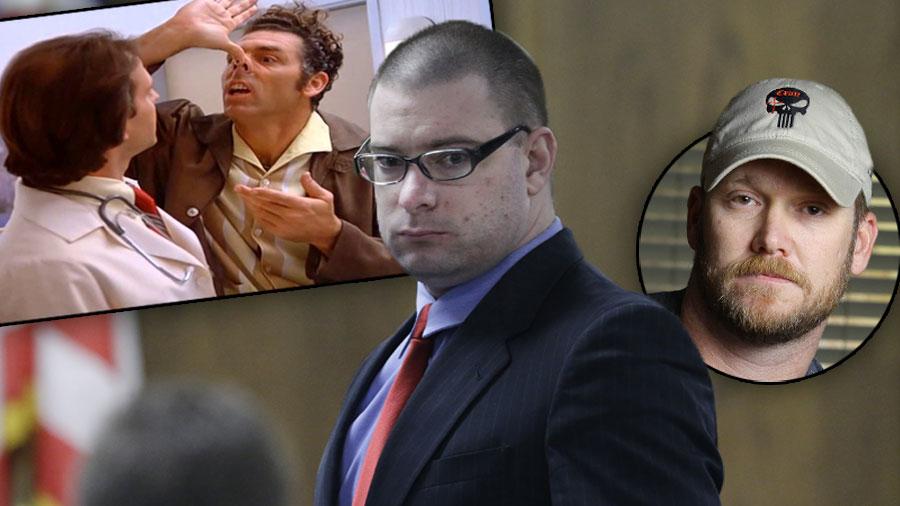 The ex-Marine charged with killing "American Sniper" Chris Kyle and another man got an idea of how to act mentally ill from an episode of Seinfeld in which Kramer thought he saw a "pig man," a psychologist testified Friday. The doctor supported the prosecution's arguments that Eddie Ray Routh was not legally insane when he shot Kyle and Chad Littlefield at a gun range in February 2013.
Testimony in Routh's murder trial ended in a Texas courtroom Friday and closing arguments are set for Monday, with jury deliberations likely to start that afternoon.
Article continues below advertisement
Routh was allegedly in a psychotic state caused by marijuana and alcohol use, Dr. Randy Price testified during the state's rebuttal case. His paranoid personality disorder, which is not a mental illness, was worsened by the drug use, Dr. Price said.
"In my opinion, I think he did know what he was doing was wrong, and he did it anyway," Dr. Price said.
He quoted Routh as allegedly telling him he thought "what have I done" immediately after the killings. Dr. Price said Routh "became immediately remorseful."
Another doctor called in the state's rebuttal Friday supported Dr. Prices conclusions, testifying that Routh does not meet the definition of insanity. "He was intoxicated at the time of the offense," Dr. Michael Arambula said, claiming that since he was voluntarily high, he could not be legally insane. "Anytime intoxication is present, the game is over."
Proving the defendant did not know right from wrong is key for the defense's argument that while Routh confessed to killing the men, he was not guilty by reason of insanity. If the jury believes that "cannabis-induced psychosis" brought it on, then the defense loses.
Article continues below advertisement
A defense psychologist who would have testified that he believed Routh suffered from paranoid schizophrenia and PTSD related to his military service was not allowed to testify. The judge ruled that doctor was not qualified even though he once visited Iraq to help soldiers with combat stress control.
Another defense psychiatrist barred from testimony was had planned to testify that Routh was mentally ill, but that it was not post-traumatic stress from his military service.
Routh told Dr. Mitchell Dunn he thought pigs were taking over the world and that his girlfriend was a "pig hybrid." He said he believed that Kyle and Chad LIttlefield, the other man he killed on a Texas gun range in February 2013, were "pig assassins," Dunn testified. Routh said he feared his co-workers at a cabinet company were cannibals and they wanted to eat him, Dunn said.
Dr. Price countered that Friday that Routh was faking his illness with talk of "pig people," suggesting he got the idea of from episode of the TV sitcom Seinfeld in which the character Kramer thinks he saw a "pig man."
Article continues below advertisement
"I don't know for a fact that he saw that episode of Seinfeld," Dr. Price admitted.
The Discovery TV show Boss Hog, a reality series that features the trapping and slaughtering of pigs, could have also influenced him, he testified.
Dr. Price said there was "no indication he had any direct combat experience" while deployed in Iraq, although Routh told him he did get upset seeing Iraqi prisoners because he wanted to fight them.
Routh also said he thought he saw a body floating in the waters off Haiti, where he was serving on a U.S Navy earthquake relief ship, but he was not sure.
On Wednesday friends and relatives testified about how Routh changed dramatically when he left the Marines in 2010. "He just seemed distant," close family friend Donna Taylor testified. "He seemed disturbed. Not like the fun-loving Eddie. He just seemed bothered."
Article continues below advertisement
The defense argues that Routh, 27, was in a psychotic state when he shot Kyle, a former Navy SEAL, and Littlefield, but his frequent use of marijuana could be a problem for his lawyers.
Four of the five people who have testified on his behalf acknowledged smoking pot with Routh, including his girlfriend. She testified that the drug never made him aggressive, although she thought he smoked too much.