Deadliest Sniper In U.S. Military History, 'American Sniper' Author Chris Kyle Shot & Killed At Gun Range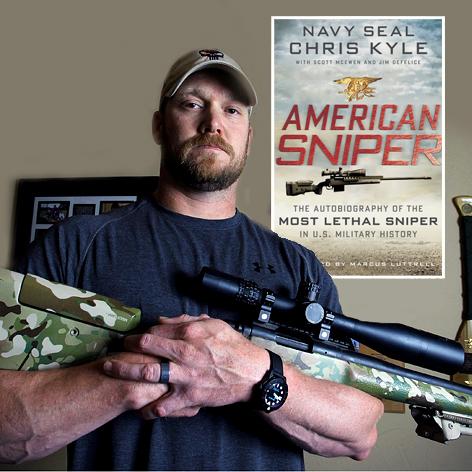 Chris Kyle, author of the best-selling book, American Sniper: The Autobiography of the Most Lethal Sniper in U.S. Military History, was shot and killed at a Texas gun range Saturday.
The retired Navy Seal had 150 kills certified during four tours of duty in Iraq between 1999 and 2009. Many reports numbered his kills at up to 225. His longest certified lethal hit was from a distance of 1.2 miles.
Kyle, 38, and a neighbor Chad Littlefield, 35, were both shot and killed Saturday afternoon on the gun range at the posh Rough Creek Lodge, not far from Glen Rose, Texas.
Article continues below advertisement
The two men had taken another veteran, 25-year-old Eddie Ray Routh, there for the day in an effort to help him deal with his post traumatic stress syndrome, reports WFAA-TV.
Multiple local news agencies are reporting that investigators have told them Routh turned his weapon on Kyle and Littlefield, killing them at point blank range.
Routh then fled in Kyle's car.
He was pursued to a house in Lancaster, Texas by officers, including a local SWAT team. Routh tried to flee in a vehicle but was stopped about 9 pm after spikes were laid across a road, Erath County Sheriff Tommy Bryant told the Forth Worth Star Telegram.
MORE ON:
Celebrity Justice
"The suspect has been caught and is in custody in Lancaster," he said, adding that Erath County sheriff's investigators and Texas Rangers were securing a capital murder warrant.
Kyle was married and the father of two. He was wounded twice while in service and was awarded two Silver Stars. five Bronze Stars with Valor and numerous other commendations.
Read more here.
"My heart is breaking," said Travis Cox, director of FITCO Cares Foundation, in a statement early Sunday morning. Kyle helped found the organization to help treat veterans who suffer from PTSD.
"Our foundation, FITCO Cares, this country and most importantly, his wife Taya and their children, lost a dedicated father and husband, a lifelong patriot and an American hero.
"Chris died doing what he filled his heart with passion – serving soldiers struggling with the fight to overcome PTSD."