Hidden Clue? Imprint On Mattress In Aaron Hernandez Home Could Show Murder Weapon — Gun Disappeared After Killing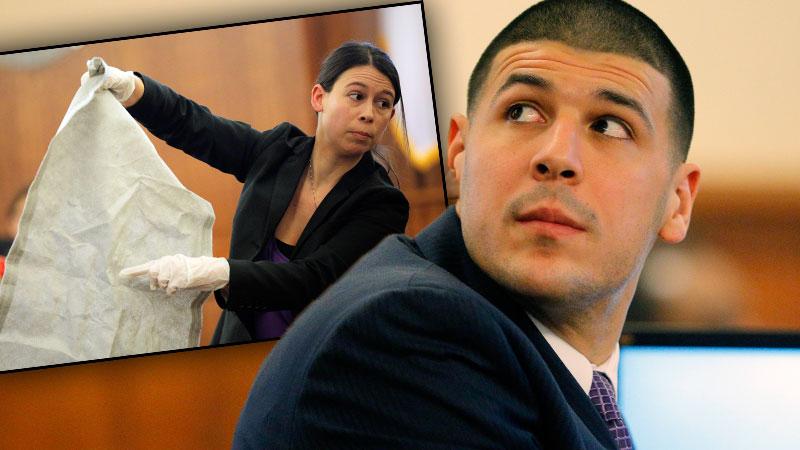 The .45 caliber gun used to kill Odin Lloyd was never found, complicating the ongoing Aaron Hernandez murder trial. But Tuesday in court, an investigator showed jurors in the trial an "impression" of what may have been the murder weapon that was found in a mattress in the ex-NFL star's home.
Two housekeepers testified Monday that they both saw a loaded and heavy semi-automatic pistol under a guest bedroom mattress while changing sheets before Lloyd was shot to death on June 17, 2013. Another maid testified Tuesday that she did not notice the handgun when changing the bed on June 18.
Article continues below advertisement
A crime scene detective showed jurors fabric cut from the mattress that she concluded showed the imprint of the weapon the maids testified to seeing.
Tuesday's testimony also centered on gruesome evidence, including showing jurors the blood-soak tank top Lloyd was wearing when his bullet-riddled body was found in a construction site minutes away from Hernandez's home.
Lloyd's mother left the courtroom in tears when photographs of her son's corpse were projected onto a large screen. The images showed several bullet entry and exit wounds in Lloyd's chest, arms, neck and back.
Jurors also saw video of Shayanna Jenkins, the former New England Patriots player's fiancée, struggling to out of his home hours after the killing. A housekeeper testified that she saw Jenkins place the bag in a car trunk and drive away. She was nervous and crying when she returned home, the maid testified.
Jenkins has already been suspected of lying to cover up Hernandez's crime, according to court documents. The judge granted her immunity from prosecution for any testimony she might give in the trial, a move which could result in her testifying against the father of her young daughter.
Although two friends of Hernandez are also accused in Lloyd's death, they will be tried separately. Hernandez faces another murder trial set to start in May for the alleged killing of two men connected to a spilled drink incident at a Boston nightclub.