Exclusive
Tough Love! Inside Teresa & Joe's Prison Visitations — 'Constraints Put On Passion,' Says Former Inmate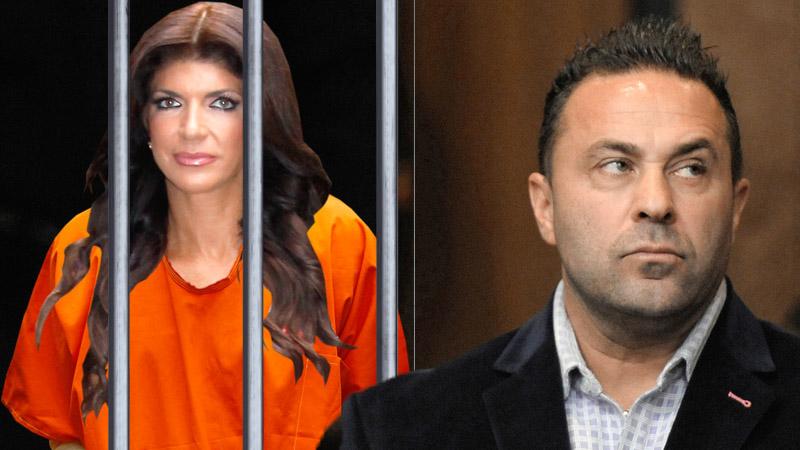 While Teresa Giudice may desire to get hot and heavy with her husband Joe during their prison visits, RadarOnline.com has learned that correctional officers will throw cold water on any passion between the two!
"It is such an artificial environment that whenever Joe does come to visit Teresa it could be a terrible strain for their marriage," a former inmate at Danbury's Federal Correctional Institute in Connecticut tells RadarOnline.com exclusively.
Article continues below advertisement
"He cannot hug her and he cannot hold her," reveals Beatrice Codianni, who served 14 years in the same facility on charges of racketeering. "There are definite constraints put on passion."
"However, they are allowed one kiss coming in and one kiss leaving," she tells RadarOnline.com. "But it's a brief kiss. They can try to tongue and if they get the tongue in, that's fine."
According to Codianni, correctional officers monitoring prisoners and their visitors are quick to jump in if they see anyone getting a little too frisky.
"They are told by the officers, 'Alright that's it,'" says Codianni, who adds that too much tongue earns reprimands like, 'That's enough — now stop!'"
As RadarOnline.com previously reported, the 42-year-old reality diva can receive mail — like love letters from her husband — as long as nothing is "determined detrimental to the security, good order, or discipline of the institution."
Aside from the bonding time with her Joe, 43, the former prisoner also reveals that "Teresa is limited in her communication with her daughters," Gia, 13, Gabriella, 9, Milania, 8, and Audriana, 5.
"She will be surrounded and cannot talk about personal issues. Because the rooms are so crowded, she will practically be sitting on someone's lap during the visits," explains Codianni, who is now the Managing Editor for Reentry Central.
Do you think that Teresa and Joe Giudice's marriage will survive the test of time? Let us know your thoughts in the comments below.