Exclusive
Teresa Giudice Slams Joe & Melissa Gorga In Secret Phone Call — Feud Continues Behind Bars!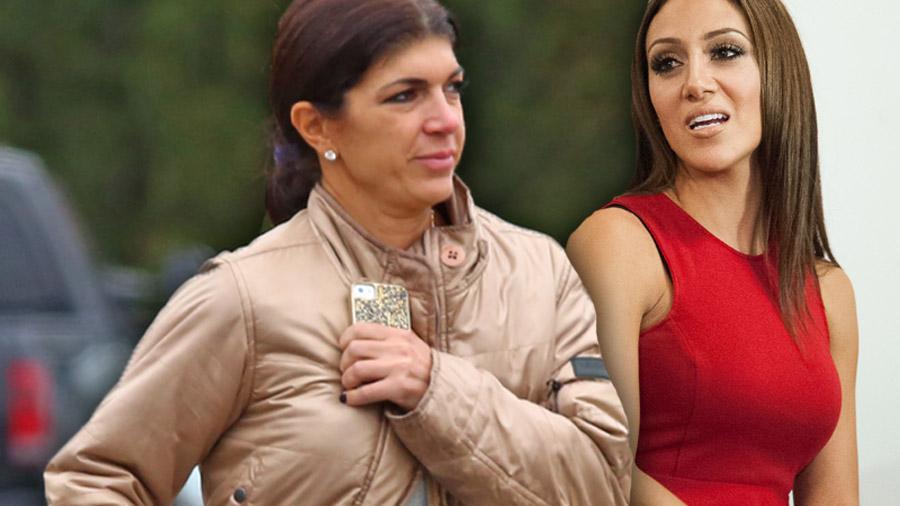 Teresa Giudice insists she's a changed woman, but RadarOnline.com has learned that just hours before entering prison, she was still stirring up drama. Giudice made a last-ditch late-night phone call to her estranged brother Joe Gorga and his wife, Melissa, the night before she entered prison, according to a source — and instead of offering an apology or farewell, she tore them apart!
"Teresa called many people the night before she went to prison," an insider told Radar. "Two of the people she called happened to be Melissa and Joe. She was insistent that they were partially to blame for her jail sentence, because they came on the Real Housewives of New Jersey and made her look bad."
Article continues below advertisement
"The conversation did end amicably," the source claimed. "However, it obviously wasn't a positive thing to have her pointing blame for her legal issues in their direction." And the feud is far from over.
Fans have lambasted the Gorgas for staying silent and not offering a statement of support for Giudice, 42, since she entered prison Monday for a 15-month stint. But the insiders said that the couple are simply tired of trying to mend the fractured relationship.
Melissa and Joe, 35, "have repeatedly tried to make things better with Teresa," the insider continued, "but she keeps blocking them out of her life."
"For example," the source detailed, "when Teresa was going to court for her sentencing she told them not to come. And then they took the heat for not showing up, even though it was Teresa's decision!"
In addition, the insider claimed, Giudice also tried to stand in the way of her brother's relationships with other family members: "She was the leading factor in why Joe Gorga's relationship with his Mother was suffering. Now that Teresa has had her legal issues and is away in prison, he is seeing his mother more often and things are much better."
For all those reasons, the Gorgas are washing their hands of Giudice, says the source, and won't be releasing a public statement any time soon.
Said the source, "Basically, it come down to this: How many times can someone try to repair a relationship before they give up?"
Whose side are you on? Let us know in the comments!