Exclusive
'From Her Weight To How She Dressed' — Teen 'Sex Slave' Claims Prince Andrew Made 'Jab Or Two' Behind Fergie's Back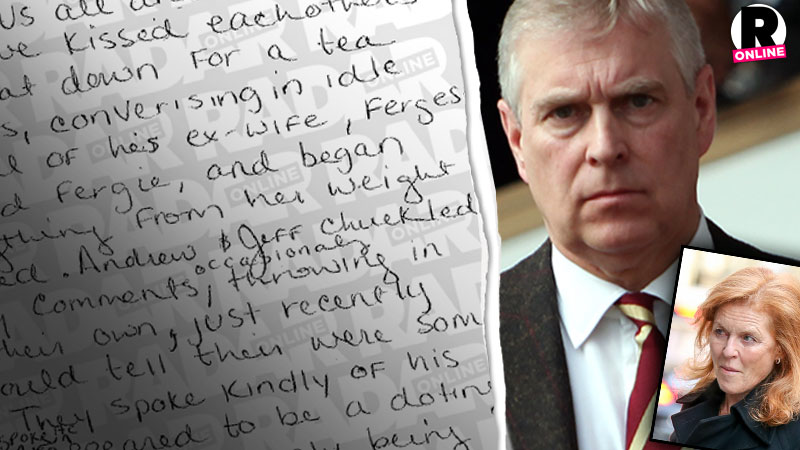 Does Sarah Ferguson believe in keeping her enemies closer or is it more a case of ignorance is bliss? The Duchess, 55, has been busy defending her ex-husband, Prince Andrew, in the wake of revelations that he had sordid sex with his billionaire pedophile pal Jeffrey Epstein's teenage "sex slave." But RadarOnline.com can exclusively reveal that the 54-year-old royal, who is fifth in line to the throne, had no problem bashing Ferguson behind her back — according to the secret diaries of his alleged teen lover.
Article continues below advertisement
"She introduced us all and as in English customs we kissed each others' cheeks. We all sat down for a tea and some biscuits, conversing in idle talk."
Maxwell steered the topic of conversation to Prince Andrew's former bride, she claimed. "Ghislane knew well of his ex-wife, Ferguson, whom they called Fergie, and began slandering everything from her weight to how she dressed."
"Andrew and Jeff chuckled along to her wry comments, occasionally throwing in a jab or two of their own," Roberts claimed in the journal obtained by RadarOnline.com.
Article continues below advertisement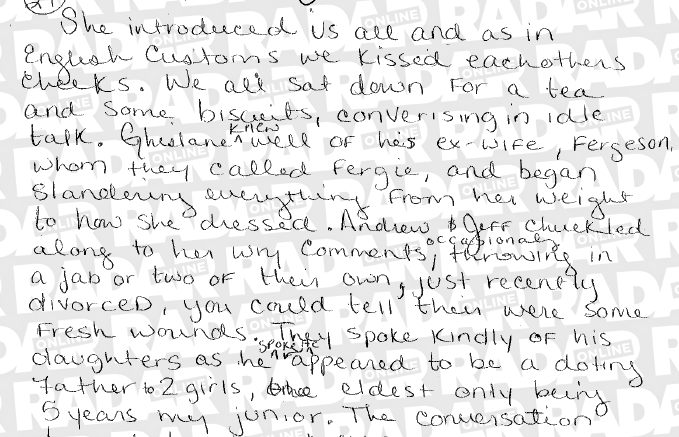 As RadarOnline.com reported, after Epstein, who turns 62 on Jan. 20, pawned Roberts off on Andrew, the Prince allegedly took the teen to Club Tramp and then got her alone in a private townhouse, where he "continued with back and forth foreplay, touching, kissing, and him even licking my toes."
"I love your feet," he whispered, "they are so irresistible," Roberts claimed the Prince said. Once the foreplay was over, the two had sex, she alleged.
"The entire affair was short-lived, when his climax was achieved he was not the same attentive guy I had know for the last few hours," Roberts claimed. "Instead, he quickly got dressed, said his goodbyes and slipped out of my bedroom to the driver still waiting for him outside."
MORE: Epstein Leaned On Vanity Fair To Lose Dirty Details From '03 Story
"In my quietest moments I flick back to these memories I have of degrading my body and morals and I fill up with agony knowing I participated in acts I would never wish on any young lady."
"It is emphatically denied that HRH The Duke of York had any form of sexual contact or relationship with Virginia Roberts. The allegations made are false and without any foundation," a palace spokesman has said.