Exclusive
'It Was All Just A Bad Dream' — Diary Entries Of Teen 'Sex Slave' Show Her Regret Over Alleged Hook-Ups With Prince Andrew & His Pedophile Pal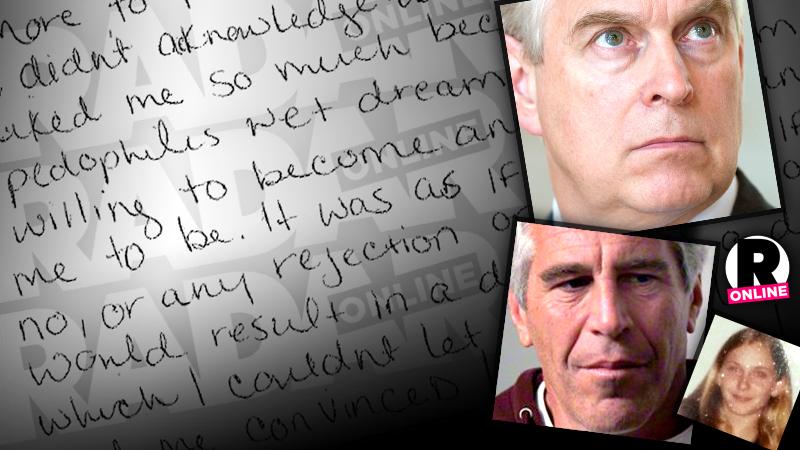 The graphic diary of the teenage "sex slave" allegedly prostituted out to Prince Andrew has laid bare just how much devastation she claims that he and his pedophile pal, the billionaire Jeffrey Epstein, wreaked on the young girl's life.
In a world exclusive, RadarOnline.com has obtained the handwritten pages that detail the "disturbing events" Virginia Roberts claims she was forced to witness and participate in when she was just 17 years old.
Article continues below advertisement
"It is emphatically denied that HRH The Duke of York had any form of sexual contact or relationship with Virginia Roberts. The allegations made are false and without any foundation," a palace spokesman has said.
But Roberts claimed, "they liked me so much because I was ... willing to become anyone they wanted me to be," wrote Roberts, who added that she didn't dare displease her "master," Epstein, because "he had me convinced I needed him."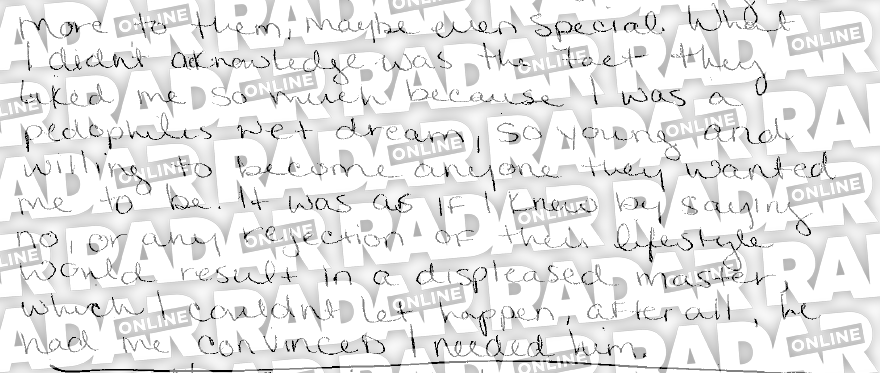 The first time Epstein allegedly forced himself on Roberts with oral and vaginal intercourse, she returned to her family's home with $200 in her pocket, a heart heavy with shame and a desire to "scream out of humiliation," she wrote.
Instead, she continued, "I went to the shower to scrub myself down and contemplate what I had gotten involved in now, I just wanted to pretend it was all just a bad dream."
Article continues below advertisement

But according to the diary entries it was her harsh reality, and the sketchy circumstances would allegedly soon land Roberts in bed with Prince Andrew, the fifth in line to the British throne.
As RadarOnline.com reported in a blockbuster world exclusive on Tuesday, after Epstein pawned Roberts off on Prince Andrew, he took the teen to Club Tramp and then got her alone in a private townhouse, where he "continued with back and forth foreplay, touching, kissing, and him even licking my toes."
"I love your feet," he whispered, "they are so irresistible," Roberts claimed the Prince said.
Once the foreplay was over, the two had sex, she alleged.
"The entire affair was short-lived, when his climax was achieved he was not the same attentive guy I had know for the last few hours," Roberts wrote. "Instead, he quickly got dressed, said his goodbyes and slipped out of my bedroom to the driver still waiting for him outside."
Article continues below advertisement
After her alleged tryst with Prince Andrew, Roberts claimed couldn't shake the dirty experience from her mind.
"In my quietest moments I flick back to these memories I have of degrading my body and morals and I fill up with agony knowing I participated in acts I would never wish on any young lady," she wrote.

Roberts claimed that extreme wealth and power "made it easy" for her to be "led astray down a path that looks dangerously tempting but when the real picture is unveiled becomes horribly tainted."

She too became marked goods in the Prince's eye after her brief job serving him was complete, she alleged. Roberts left London with Epstein and her madam, Ghislane Maxwell, "not seeing the Prince again, and not expecting to either," she wrote in her diary. "I knew well by now what my purpose was for these two sophisticated hustlers."