Exclusive
Return To Sender: Prince Andrew Refused Certified Letter From 'Sex Slave' Attorneys Asking For 'Under Oath' Statement On 'Sex Slave' Virginia Roberts' Claims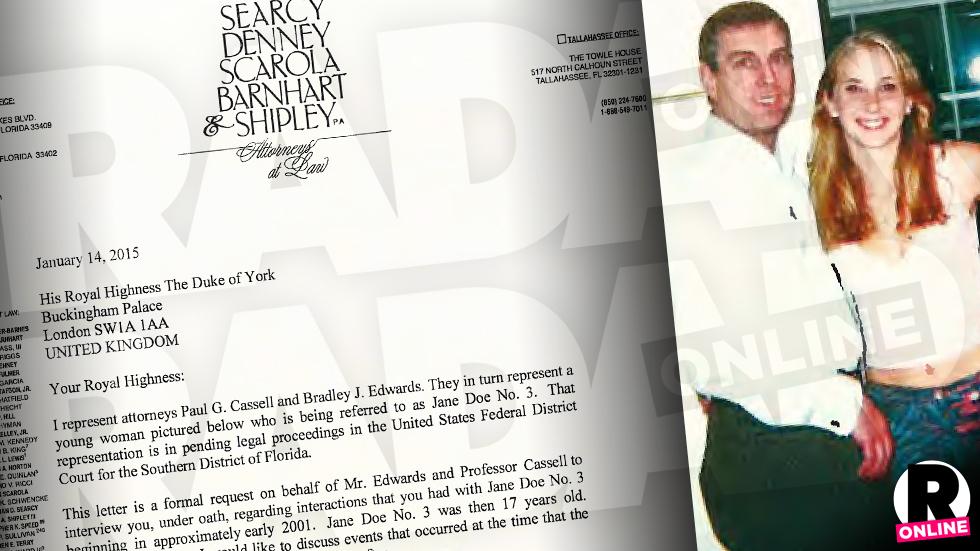 Prince Andrew has yet to comment personally on increasingly public allegations that he had sex with a minor, Virginia Roberts. But in shocking new legal documents obtained by RadarOnline.com, her attorneys claim that he refused a certified letter asking him to do so!
According to newly filed court documents obtained by RadarOnline.com, Roberts' attorneys claim that on January 14, 2015, they "sent Prince Andrew a certified letter requesting his voluntary cooperation in answering questions about his sexual interactions with Roberts. The letter requested an opportunity to take a statement under oath from Prince Andrew. Federal Express has informed us that the letter has been refused by the recipient."
Article continues below advertisement
"Your Royal Highness:" the letter, filed in court and obtained by RadarOnline.com begins. "…This letter is a formal request … to interview you, under oath, regarding interactions that you had with Jane Doe No. 3 Virginia Roberts beginning in approximately early 2001. Jane Doe No. 3 was then 17 years old. Among other things, I would like to discuss events that occurred at the time that the photograph below was taken — and shortly thereafter."
As RadarOnline.com reported, Roberts detailed her allegations of that encounter in private diaries published by RadarOnline.com.
"I led him into the upstairs bathroom next to the room I was staying in," Roberts claimed in the diaries.
"I was doing my best trying to put on a good show for him by slowly undressing and started to pour a bath. The room quickly filled with steam from the hot water as I turned to Andrew and began to kiss his neck and undress him.
Article continues below advertisement
"He was caressing every part of my naked body and filling my head with endless compliments about my blossoming figure."
In the bath, she wrote in the diaries, the two "continued with back and forth foreplay, touching, kissing, and him even licking my toes. 'I love your feet,' he whispered, 'they are so irresistible.'" After sex, she alleged, he "quickly got dressed, said his goodbyes and slipped out of my bedroom to the driver still waiting for him outside."
She next encountered him at Epstein's Manhattan townhouse, she alleged in the diaries, and the letter from her attorneys states, "I would also like to discuss Roberts' claims of your subsequent interactions with her in New York City, New York, later that year."
"This interview could be conducted at a time and place of your choosing, and with your cooperation, I believe the interview could be completed in two hours or less."
Article continues below advertisement
So far, Prince Andrew has refused, and it wasn't the first time.
In 2011, the new court documents claim, attorneys "faced procedural impediments to obtaining a sworn deposition from a member of the British Royal family." As such, the documents state, the attorneys made a public plea for his cooperation to no avail.
Reps for the royal have spoken out on his behalf, stating, "It is emphatically denied that HRH The Duke of York had any form of sexual contact or relationship with Virginia Roberts. The allegations made are false and without any foundation."
But Roberts' attorneys insist that the denial, which she called "hurtful" in the affidavit, does not offer "any explanation of what the Prince was doing with this minor girl late at night in a private setting."
As RadarOnline.com reported, Roberts stated in her affidavit that she has instructed her legal team to pursue "criminal charges" against Epstein and high-powered pals like Prince Andrew.