Kathy Griffin 'Upset' Over 'Extreme Backlash' For Fashion Police Debut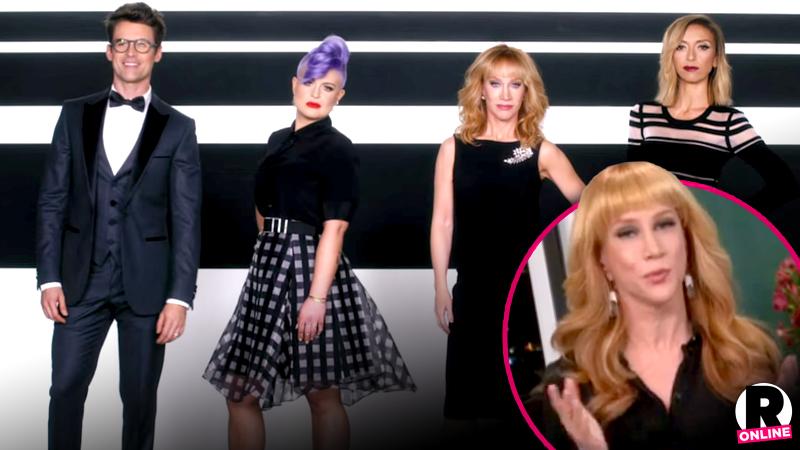 Kathy Griffin's Fashion Police debut didn't go exactly as planned, with viewers criticizing the redhead's performance more harshly than the show's fashion flops.
Now, a source close to Griffin has told RadarOnline.com that the comedienne is "slightly upset over the backlash she is getting."
"Everyone is giving Kathy a hard time because they are saying that she messed up," the friend divulged.
Griffin, who replaced the late Joan Rivers at the helm of the show, "gave a shout out to Joan and used the word 'heaven,' which is kind of taboo to say on air because of the diversity of the viewership worldwide," the source explained.
Article continues below advertisement
"Fans and higher-ups are upset."
Griffin, 54, also named Amal Clooney, who was wearing a Dior gown with white gloves, as the worst dressed celebrity at the Golden Globes.
According to the source, "People are really coming down on her for that!"
"Yeah, she's annoying," Griffin said of the 36-year-old human rights lawyer and wife of George Clooney during the show's debut episode on E!.
"You heard me! Everybody run in fear! I thought it was weird she had those gloves that remind me of, like, a porn scene, where the guy goes home and there's the naughty dishwasher and she only has the gloves," Griffin added.
However, Kelly Osbourne, Griffin's co-host was quick to agree and said that Clooney's gloves belonged "on a vet helping a calf be born."
"Kathy is also getting heat because Amal Clooney apparently has a huge fan base," the insider told Radar.
"No one is talking about canning Kathy over this," the source insisted. "Her higher-ups and fans are just coming down on her and she thinks that she doesn't deserve it."
"She is not perfect and she was picked by Joan Rivers' daughter Melissa for this job. She didn't actively seek it."
Do you think that Kathy Griffin is a good replacement for Joan Rivers? Let us know in the comments.