Hit & Miss! 'Fashion Police' Fans React Differently To Kathy Griffin's 1st Show Replacing Late Joan Rivers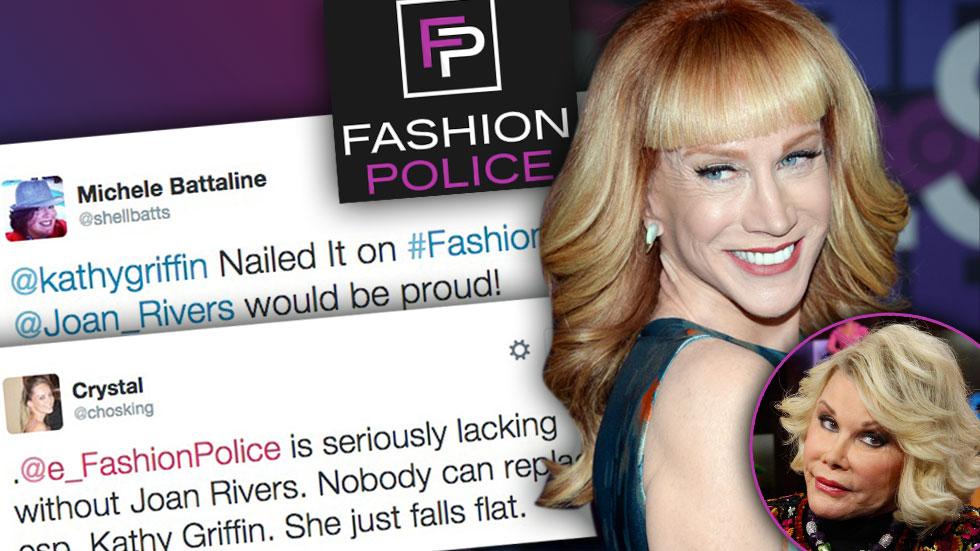 Kathy Griffin's Fashion Police debut drew mixed reviews from many of the show's loyal viewers, with a common sentiment that she fell far short of replacing the E! show's late Joan Rivers.
Griffin and Brad Goreski has their first outings on the show Monday alongside regulars Giuliana Rancic and Kelly Osbourne, in giving their picks and pans on Golden Globes fashion.
While the red-headed comic had her fair share of supporters -- and others quite patient that the show would improve as the cast gelled -- some were critical of Griffin for her penchant for punchlines and shortcomings understanding fashion.
Article continues below advertisement
She acknowledged Rivers early on, saying her predecessor was watching down from heaven, and vowing to bring the same tart tongue that made Rivers perfect for the E! roundtable.
"I just want to thank my good friend whom we all miss, Joan Rivers. So, Joan, I know you're watching from heaven but don't get it twisted," she said. "I won't be afraid to bring the hammer down on anyone and everyone."
Watch the video on RadarOnline.com