Tori And Dean Take The Kids To Visit Mall Santa Claus As They Stick Together For Christmas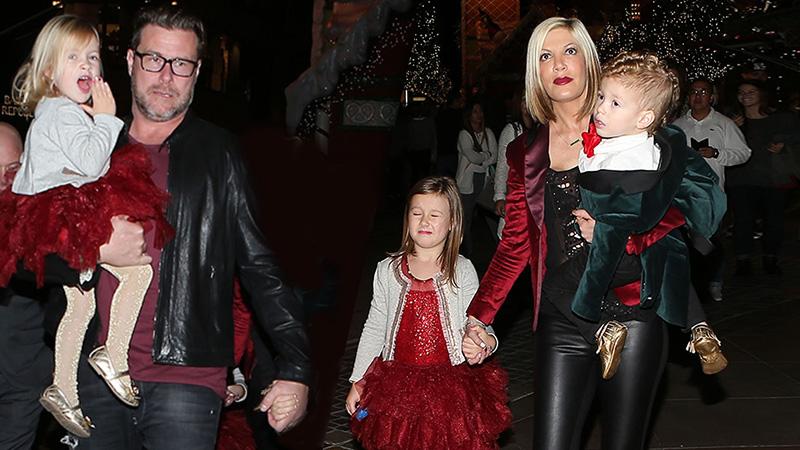 All I want for Christmas is my mom and dad to stop fighting?
Tori Spelling and Dean McDermott took their kids to the mall for a traditional visit and picture with Santa Claus on Friday night.
And after their squabbling on two seasons of True Tori, onlookers wouldn't have been surprised if Spelling and McDermott's four children asked the man with all the toys for some family peace!
As RadarOnline.com readers know, the marriage that was marred by McDermott's cheating appeared to be hanging by a thread on the Lifetime reality show that recently concluded.
Article continues below advertisement
But Spelling and her husband of eight years smiled as they escorted Liam, 7, Stella, 6, Hattie, 3, and Finn, 2, to The Grove in Los Angeles to pose with Santa and the Gingerbread Man.
The entire family, beautifully dressed up for the holidays, also enjoyed The Grove's popular festive fountain light show.
Spelling, 41, wore a cheerful red velour blazer with satin lapels while McDermott, 48, made the scene in a crimson sweater under a black leather jacket.
The embattled couple appeared to be in good spirits although True Tori showed them still dealing with McDermott having cheated on the former Beverly Hills 90210 star with Emily Goodhand in 2013.
"Why are you even with me?" McDermott moaned at Spelling during an on-camera therapy session.
Jealous Spelling constantly questioned McDermott's choices during season two, including his attempt to hire his female friend from rehab to babysit their kids.
But there was no sketchy babysitter in sight on their Friday outing and the two have stayed together.
Spelling recently claimed "things are really good" between her and McDermott.