Friction On 'The View' Spilling Over Into Rosie O'Donnell's Home Life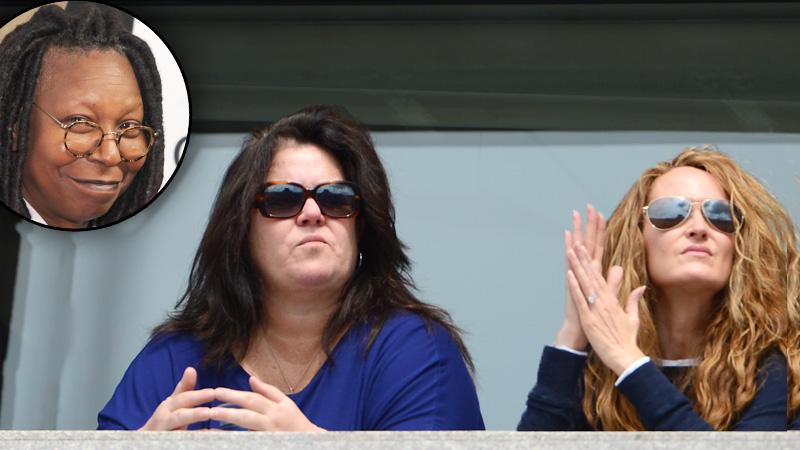 Rosie O'Donnell's bad vibes at work are causing some major problems at home.
The 52-year-old mother of five has had a tough time taming her temper while shooting The View. Now Star is reporting that the talk show co-host's issues during the day are starting to spill over into her home life at night with her wife of two years, Michelle Rounds.
"This is exactly what Michelle feared would happen," a family insider tells the magazine. "Rosie gets so worked up with the show that she doesn't have the time or the patience for her family."
Article continues below advertisement
As RadarOnline.com reported, O'Donnell threatened to leave The View after she got into yet another nasty on-air argument with her co-host Whoopi Goldberg.
"You don't have to be black to know what racism is," O'Donnell told Goldberg during the Dec. 18 fight over race relations.
"Yes you do," Goldberg retorted.
After the heated segment was over, a source told Radar, O'Donnell stormed over to producers to voice her displeasure with Whoopi. But there, her frustration only mounted.
"Rosie heard several staffers talking about using a split screen if the fighting continued when taping resumed," the source revealed. "Rosie went absolutely ballistic, pointing out that was the reason she had quit the first time. Racism is a very serious subject, and Rosie felt that the staff of the show was trying to exploit it for ratings."
Whatever the case, O'Donnell's bad moods haven't been going away once she walks out of the studio, causing friction with her wife, Rounds, 43.
"Something had to suffer," says the insider of the couple's home life. "And in this case it's the ones that should matter most."