Exclusive
'Immature!' Rosie O'Donnell Threatened To Leave 'The View' Over Whoopi Goldberg Fight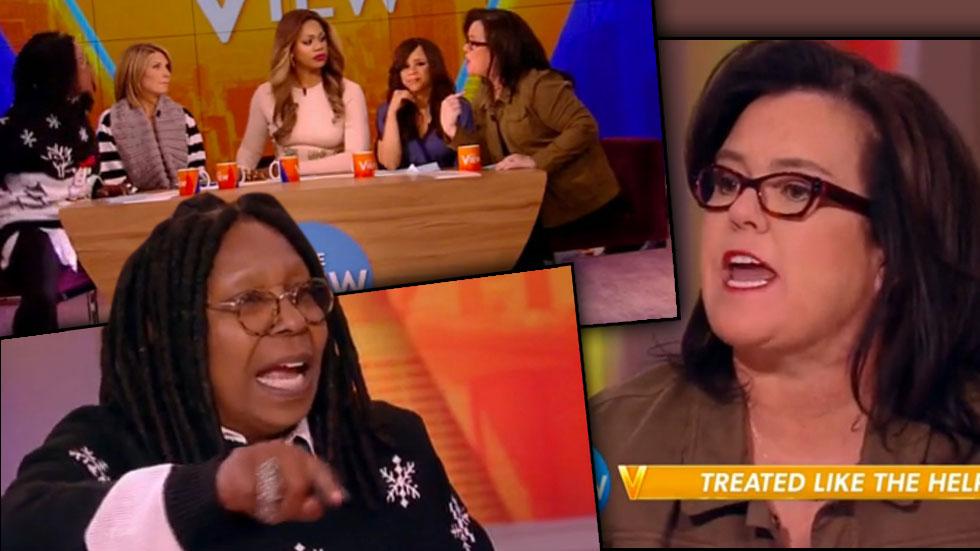 Rosie O'Donnell got into another epic on screen fight with Whoopi Goldberg during Thursday's episode of The View, but RadarOnline.com has learned that the real drama happened off-camera! According ton an insider, O'Donnell heard producers discussing using the dreaded split screen during a commercial break, and insisted if it was used, she would quit, just as she did during her infamous on-air spat with Elisabeth Hasselbeck.
Article continues below advertisement
This time around, the verbal sparring happened while discussing racism during Thursday's Hot Topics segment.
"Listen, you are a white lady telling me what is racist to you, which is fine," Goldberg pointedly told O'Donnell.
"I'm a gay-American that has been called a dyke," O'Donnell retorted.
"It's not the same," said Goldberg.
O'Donnell added, "I have a black kid I raise, Whoopi. I have a black kid in my house."
"That is not the same," insisted Goldberg.
"You don't have to be black to know what racism is," O'Donnell replied.
"Yes you do," Goldberg said.
"No you don't," O'Donnell retorted.
After the heated segment was over, a source said, O'Donnell stormed over to producers to voice her displeasure with Whoopi. But there, her frustration only mounted.
"Rosie heard several staffers talking about using a split screen if the fighting continued when taping resumed," an insider revealed. "Rosie went absolutely ballistic, pointing out that was the reason she had quit the first time. Racism is a very serious subject, and Rosie felt that the staff of the show was trying to exploit it for ratings."
Article continues below advertisement
"She threatened to walk out yet again, so using the split screen was ultimately shelved," the source continued. "Luckily, cooler heads prevailed when the show returned from a commercial break."
But the atmosphere on set is still incredibly tense, according to the insider.
"Whoopi and Rosie aren't even pretending to like each other on the air," the source said. "It won't be the last time they spar. Needless to say, the crew is looking forward to the Christmas break. Both of them are acting extremely immature."
Whose side are you on? Let us know in the comments!
Watch: Whoopi Goldberg loses it with Rosie O'Donnell on The View