Not Soon Enough! Phaedra Parks Couldn't Wait For Husband Apollo Nida To Report To Prison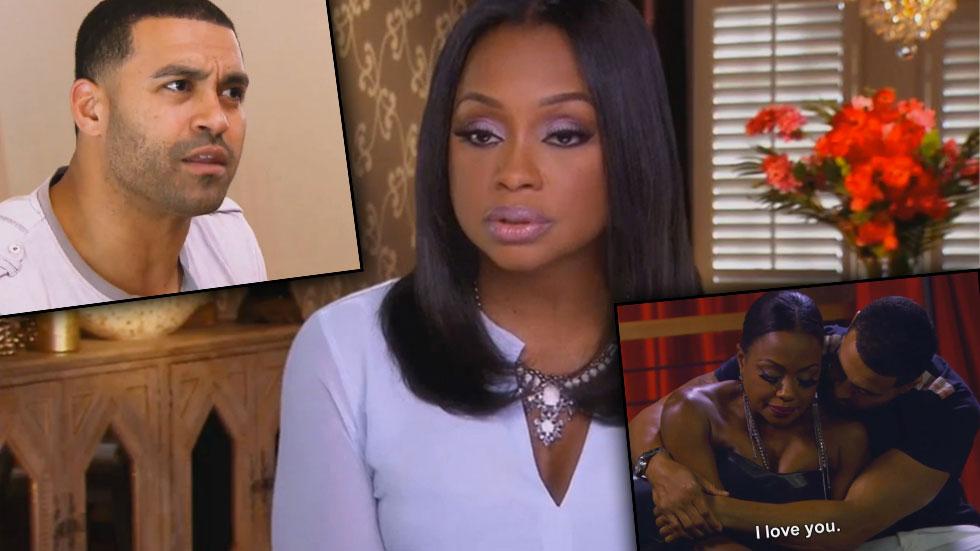 Phaedra Parks' drama with her prison-bound husband Apollo Nida has been a key storyline all season on The Real Housewives of Atlanta, and Sunday night's episode was no exception, as viewers learned Parks was actually anxious for Nida to be put behind bars as soon as possible.
As RadarOnline.com readers know, Nida is currently in prison serving an eight-year sentence for his bank fraud and identity theft conviction, and Sunday's show gave viewers a glimpse of the events prior to Nida entering custody.
Article continues below advertisement
Parks admitted to her mother Pastor Regina that she would be less stressed out when Nida was incarcerated.
"I won't have to be worried about all his nonsense, wondering what's going on with him, has he wrecked something, has he got in trouble somewhere?" she explained.
A week after fans saw Nida telling Parks at a nightclub that he still loved her even if she didn't love him, the housewife told the cameras, "Apollo's running around town like a chicken with his head cut off. I never know where he is, but no matter where I am in the world, he seems to pop up."
Parks told her mother, "It's easy to say you love somebody," but Nida's actions didn't show it.
Also, when they did talk, he was always trying to blame her for everything that had happened.
Parks said if Nida was insecure, he shouldn't have married a successful woman.
Plus, the attorney and licensed mortician said there was no reason for Nida to have broken the law: "I have given him many legitimate business ideas, from the family funeral business to the workout DVDs.
Article continues below advertisement
Watch the video on RadarOnline.com
"He's clearly rejected most of them and has just done whatever he wanted to do."
And Parks claimed that their sons Ayden, 4, and Dylan, 19 months, seemed to be the furthest thing from his mind as he waited to find out when and where he would serve his sentence.
Later in the episode, Parks was seen caring for the kids and sighing, "I don't know where Apollo is."
She vowed that once he left for prison, that "nothing will change. I will continue to be a strong role model.
Article continues below advertisement
"The four of us have had our issues," Leakes said in the understatement of the season.
Leakes reiterated that she loved Bailey after the two had earlier started the , and Bailey returned the sentiment.
Bailey pointed out that both of them got their feelings hurt, but said she always wanted to be friends with Leakes.
"I need time," Leakes said.
Moore suggested the two just have lunch together, but Leakes said not for a couple of years, which startled Bailey.
MORE ON:
The Real Housewives of Atlanta
"Just know that I am not your enemy," Bailey told Leakes, then kissed her on the cheek three times.
Then Bailey said Williams was rude when she was an hour late for their previous lunch.
Williams started to shout at Bailey -- and when Moore tried to butt in, Williams called Moore, "rude as a mother*cker".
Finally, Williams and Moore also made up.
Moore said, "There were a lot of things said and done … I gotta forgive and I have."
Article continues below advertisement
Williams replied, "I acknowledged everything that happened."
Moore got up and offered Williams a hug and even owned up to her own abrasive antics at the reunion show.
"I take full responsibility: can you give me a hug?" Moore said.
The two embraced and Moore suggested, "Let's wipe the slate clean."
RHOA fans also saw Kandi Burruss and her Mama Joyce discuss how Todd Tucker's mom Sharon Wells had threatened to punch Mama Joyce.
And as RadarOnline.com has reported, rampaging mother-in-law Wells (who tragically died after filming her housewives' scenes this year) had also considered slapping Mama Joyce with a lawsuit.
Burruss recalled how angry Wells was about Mama Joyce calling her a prostitute (a charge Wells vehemently denied).
But Burruss' mother, who had just moved into a new home financed by Kandi, still refused to apologize to her in-law.
Article continues below advertisement
Later, when Burruss told husband Tucker, he proposed that the two of them take separate holidays so he could be with his mom.
In Tucker's opinion, their two mothers couldn't be in the same room together, and he said to Burruss, "It's all a problem your mother created. I don't see it working."
Also, RHOA revealed more about newbie Claudia Jordan's life as she visited with her Italian mother Teresa and African-American grandmother Lillian.
Jordan, 41, said in confessional that her parents got divorced when she was 10-years-old.
Her mother urged her to have a baby out of wedlock because she wanted a grandchild.
Jordan reminded her mother they'd never said I love you.
"I show my love by doing things," Teresa said.
She sighed that Jordan's father would profess his love but "soon he saw a different skirt he went after."