Pre-Prison Confession: Apollo Tells Phaedra, 'I Love You Even If You Don't Love Me'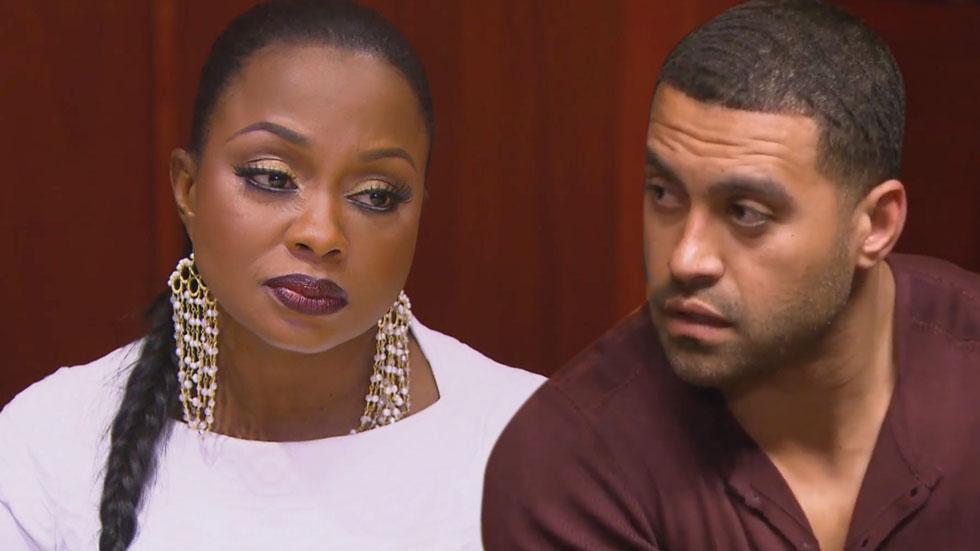 Phaedra Parks gave her prison-bound husband, Apollo Nida, a stone-cold reaction when he confronted her about their relationship on Sunday night's The Real Housewives of Atlanta.
Nida hugged and kissed his unresponsive wife and then, referring to their estrangement after he plead guilty to bank fraud and identity theft, asked Parks, "You don't miss me?"
"I asked if you loved me earlier," he continued. "You don't comment on that. I love you even if you don't love me."
Article continues below advertisement
The tense talk after Nida unexpectedly showed up at a video music party Parks was attending for new housewife Demetria McKinney.
"You're not going to kiss me?" 36-year-old Nida said as he zeroed in on his wife, who was surrounded by the other RHOA ladies.
After she just pecked him, he sighed, "That was an ugly kiss."
Nida then asked her for a chat at the crowded nightclub and demanded, "Are you in the discrediting mode, or do you want to be loving?"
Nida also told Parks, "I came in peace," but warned, "let me know because I can switch my mode real quick. I'm still your husband, don't forget."
Parks, the 43-year-old mother of their sons Ayden, 4, and Dylan, 19 months, scoffed back, "Make it your obligation."
As RadarOnline.com has reported, Nida threatened Parks with divorce. "I'm sick of straddling the fence, he sniped. "If two people are unhappy it's one solution."
Article continues below advertisement
On the other hand, he noted, "If we're going to work on the marriage, we're going to work on the marriage."
Nida wanted Parks to respond, but she said they should talk at home, not at a nightclub.
But her frustrated husband charged that she ignored him whenever he was at their house.
"You're still my wife. Let me hold you," he said, hugging her as Parks cringed.
Viewers now know that troubled couple never resolved their deep issues — Nida went to prison and Parks announced in October that she'd be filing for divorce (after the current RHOA season was shot.)
MORE ON:
The Real Housewives of Atlanta
Article continues below advertisement
Melvin admitted he'd been arrested himself before turning his life around, and Parks noted that she didn't want her sons "to repeat the same cycle" as their father, Nida.
Later, 38-year-old Burruss got in a debate over how her house got trashed.
Mama Joyce was angry her daughter had told people about the mess her boyfriend caused, but Burruss asked, "Why would he tear out all those bathrooms?"
Mama Joyce, 65, said she couldn't argue with Burruss because she was taking medicine to keep from getting an aneurysm — so they called a truce.
Fans were also introduced to 35-year-old Demetria McKinney, an actress-singer who was dating famed Atlanta producer Roger Bobb, 46.
McKinney was worried about rumors that Bobb was also seeing Kenya Moore — and she wanted the housewives to know SHE had been with him for seven years.
At her video party, McKinney warned Moore, 43, about the situation, but Moore assured her, "I do not want your man."
Moore claimed to be only interested in his career help.