Secret Behind The 'RHOA' Reunion Fight Finally Revealed! Kenya Moore Accused Porsha Williams Of Cheating On Her Husband Kordell Stewart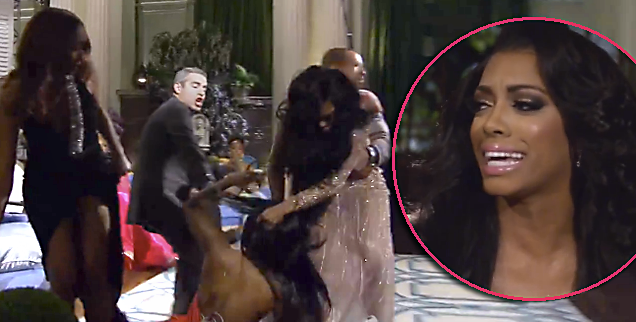 Porsha Williams' vicious attack on Kenya Moore during The Real Housewives of Atlanta reunion happened after Moore accused her of cheating on former husband Kordell Stewart.
That was the secret breaking point fans finally learned during Sunday night's Bravo broadcast of the most notorious housewives brawl ever.
Listen! 'RHOP' star Wendy Osefo breaks down the "most intense fight in the show's history" in under 2 minutes.
Article continues below advertisement
And after beating Moore, 43, and pulling her hair, hysterical Williams, 31, screamed to the other housewives, "I can't believe I did that! I have embarrassed myself!"
As RadarOnline.com readers know, Williams, who implied her ex-husband Stewart might be gay — and whom Moore called out for being the "beard" —threw some shade of her own at the reunion with host Andy Cohen.
Williams claimed Moore's so-called "African prince" was someone the former pageant queen had hired for $15,000 to pretend to be her boyfriend.
But Moore claimed, "I have lived my life under the RadarOnline.com with my love life. Some people here have met my guy before."
Williams then frowned at the reunion show, "There is no African prince for you — there never was," and explained she'd heard of Moore's plot to create a fake beau.
Faked Scenes, Lies & Payoffs – The Ultimate Guide To Reality TV Shows
Williams wound up grabbing Moore's scepter, which she had wielded like a queen during the reunion show, and tossed it to the ground, saying, "Don't point that at me. I'm not playing with you."
Article continues below advertisement
Then the "Gone with the Wind Fabulous" star just brought out another prop, talking to Williams through a bull horn as the other housewives laughed.
Williams said the decorated wand was going up her a**!
"I would like Porsha to spell scepter," Moore said wickedly about the young woman, who at one point, thought the underground railroad was an actual train.
After head housewife NeNe Leakes said she had NOT met Moore's African prince, as Kenya had claimed, all hell broke loose.
"You have been the villain from day one," Williams said to Moore.
Moore snorted of Williams, who reportedly finalized her divorce from Kordell Stewart without getting anything, "Her man put her out on the street."
It got worse as Williams told Moore, who is hoping to have a baby, "Your vagina is so rotten no one will claim you."
Moore countered by referring to ex-football player Stewart as "the one who you cheated on."
Article continues below advertisement
Not long after that, Williams shouted, "I'm going to f*ck you up!" and, when both ladies stood up, she attacked Moore, pulling her hair violently and sending both of them to the ground!
Cohen pulled them apart, shouting, "No! Stop! "We're not doing this."
Leakes literally sat on top of Williams and held her hand over her co-star's mouth to subdue her.
Meanwhile, Moore walked off the reunion set, saying, "I'm not going to sit here and get hit by somebody on TV. She goes or I go!"
Article continues below advertisement
A whimpering Williams, surrounded by the other housewives on the floor, shrieked, "I can't believe I did that. I have embarrassed myself!"
Phaedra Parks said it was going to be all right if she apologized to Moore, and gave her a hug.
A tearful Williams kept saying, "I'm sorry," as a stagehand carried her off the set.
People We Love! Hollywood's Most Inspiring Rogues, Renegades & Rule Breakers
"I can't believe that ratchet ho made me go there," Williams added.
Parks told her, "You just had a bad moment. She's not worth it. You know what your relationship was. Don't even worry about trying to prove it, Porsha. You know she's a hater."
Later, Cohen was shown going to Moore's dressing room and saying he felt terrible the incident happened.
"You don't assault somebody," Moore said. "There's something wrong with her."
Next, Cohen visited Williams' dressing room and she explained to him,"I don't know if I was ready for this. I filed for divorce; within weeks, the cameras came and I started filming. Everything hit me at one time. She's bringing up stuff about Kordell, the bullhorn.
Article continues below advertisement
"I've literally been taking so much from her for two years."
Williams told Cohen about the actual assault on Moore, "I blacked out. I didn't even realize what was happening until I was laying on the ground and saw NeNe."
Bravo host Cohen softly pointed out, "You understand to get physical is not the way."
"Absolutely. I'm embarrassed and disappointed, but also, I feel I was pushed to the wall," Williams claimed.
Cohen told her to go home and take care of herself instead of completing the rest of the reunion taping.
"At some point you need to apologize to her," he said.
A preview clip later revealed that part two of the reunion show went on without Williams!
Before things unraveled at the reunion, viewers also saw Cohen pointing out what looked like Williams' new boob job — with her coyly claiming she ate a lot of yams.
Article continues below advertisement
Leakes also talked about her pulmonary embolism. The Dancing with the Stars competitor told fans she takes blood thinners every day and wears compression socks when she's flying.
The reunion show also showed the uncomfortable relationship between Leakes and former friend Cynthia Bailey, as Leakes said she didn't know how to twerk and the former model looked offended.
Leakes also has a tense relationship with Moore, who said she didn't invite NeNe to her dog Velvet's funeral because she didn't give her condolences like the others.
Watch the video on RadarOnline.com
The only happy housewife on the reunion show was Kandi Burruss, who was looking forward to her wedding to Todd Tucker, which was filmed for Bravo just days after the reunion show.
But the big fight took center stage on Sunday night and fans are still wondering what the fallout will be as the second part of the reunion show airs next week.