Exclusive
Leah Messer's Dangerous Affair: Secret Lover Robbie Kidd Has Criminal Record Including Arrests For Battery, Trespassing & Drug Possession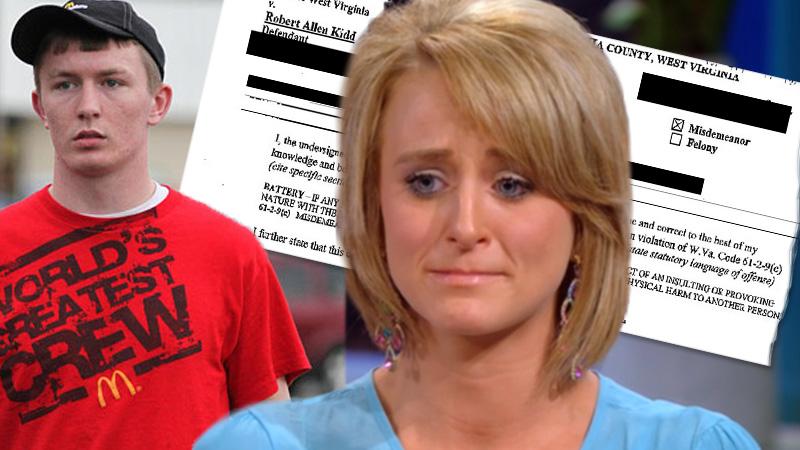 Over the past few months, Leah Messer has made more than a few mistakes.
Multiple sources have told RadarOnline.com that the Teen Mom 2 star got caught up in prescription painkiller abuse, which may have led the 22-year-old to drain her disabled daughter Ali's $50,000 trust fund.
But the married mother of three's biggest mistake could be hooking up with bad boy ex Robbie Kidd— a troubled West Virginia local who Radar can exclusively reveal has been arrested for battery, resisting arrest, trespassing and possession of a controlled substance since 2013.
Article continues below advertisement
Would Messer want her 5-year-old twins Ali and Aleeah and 22-month-old daughter Adalynn to associate with a criminal?
According to court documents exclusively obtained by Radar, Kidd was last arrested on September 17 after a police officer discovered the 22-year-old lurking around a Sleep Inn hotel in Charleston, West Virginia. Hotel staff had contacted authorities when Kidd refused to leave the premises.
When Deputy Sheriff H. Shipman asked for a phone number to call so Kidd could get a ride home, the father of one gave him a local number— but then inexplicably became enraged when the officer repeated it back to him.
"How did you get that number? I didn't give you that number!" he screamed, according to the police report.
Kidd refused to calm down and leave the area, so Shipman handcuffed him. He then continued to harass the officer and hotel patrons.
Article continues below advertisement
"I patted Mr. Kidd down and found 13 yellow, round pills, stamped X and 73, which are believed to be Alprozalam (generic Xanax) a schedule four substance," the officer wrote.
He was arrested for possession of a controlled substance, resisting arrest and trespassing, and remained behind bars for five days until a friend posted his $500 bail.
At a December 17 hearing in Kanawha County Court, Kidd pled guilty to the charges in a plea deal. Though he faced one to six months in jail, Kidd got lucky and was only fined $210.25 in his sentencing.
The September incident wasn't Kidd's first brush with the law. According to court papers also obtained by Radar, he was arrested for battery on February 11, 2013 after he allegedly beat a male friend so brutally the victim was rushed to the hospital for a possible concussion.
The fight occurred at Kidd's own moving away party in Elkview, West Virginia three days prior, cops say.
In October 2013, the charges were dropped at the request of the victim.
Messer has attemped to distance herself from Kidd. But Kidd recently came clean, confessing to an illicit tryst with the formerly squeaky-clean star.
As Radar previously reported, Messer is unofficially estranged from her husband Jeremy Calvert, 25, who is hesitant to upset his conservative family by filing for divorce.