Johnny Depp Tries At Home Rehab To Quit Drinking – 'Once He Starts He Cannot Stop'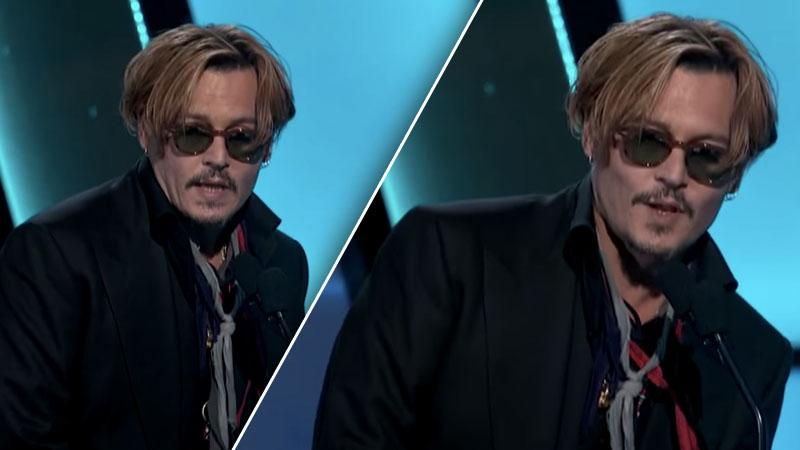 After Johnny Depp publicly humiliated himself with a seemingly intoxicated appearance at the Hollywood Press Awards last month, those close to the 51-year-old megastar allegedly told him that he'd reached the bottom of the wine barrel. Following the embarrassing display, RadarOnline.com has learned, those close to the star have pressured him to get help, and he's taking time away from the spotlight to do just that.
Article continues below advertisement
Depp was previously sober for almost two years, and according to a report in The National ENQUIRER, his longtime love and the mother of his two children, Vanessa Paradis, 42, blamed his current fiancée Amber Heard for the slip.
However, the insider tells The ENQUIRER that it is not entirely Heard's fault.
"Amber broke his sobriety, but she isn't necessarily a bad influence," claims the source. "She isn't a party girl anymore."
According to the magazine, on newsstands now, "Amber and family members asked him to get help. She is dead serious about walking away from him unless he cleans up his act."
Following the ultimatum, Depp, 51, missed the premiere of his next highly-anticipated film, Into The Woods on Dec. 8.
"Depp's absence from Into The Woods raised a lot of questions," a well-connected Hollywood insider says. According to the source, studio execs, "have graciously allowed Johnny to bow out of all press and events for the film. The decision was motivated at least in part by concerns over Johnny's privacy."
The Pirates of the Caribbean actor told Rolling Stone magazine last year that he stopped drinking because alcohol caused problems in his life. Although he was sober for a year and a half at the time, he insisted that he was not an alcoholic.
However, this real life movie does have a happy ending, according to The ENQUIRER.
"After realizing that he clearly had an issue, Johnny would often be seen traveling with a companion to help 'encourage his sobriety. Johnny's problem has always been his moderation. He couldn't just have one," the insider adds.