Shocking Revelation! Jodi Arias Was 'Secret Defense Witness' & Is 'Upbeat' About Appeal – 'She Truly Thinks She Will Walk Free One Day'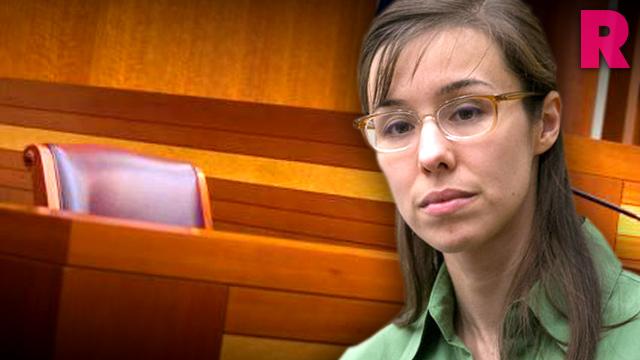 The "secret witness" who testified out of public view in the Jodi Arias death penalty trial last month was the defendant herself — Jodi Arias — according to court documents just revealed.
"It was definitely Jodi," lawyer Beth Karas, who covers the trial on her website KarasOnCrime tells RadarOnline.com exclusively. "The question is will she get back on the stand."
The shocking revelation comes as a close friend of Arias tells The National ENQUIRER that the convicted killer is "upbeat" and confident she'll never be put to death and will someday be a free woman.
Article continues below advertisement
"Her mind-set is there's no way she is getting death, but it's more than that," the source who spoke with Arias told The ENQUIRER. "She is focused on her appeal because she thinks she'll win it. She truly thinks she will walk free one day."
One reason for her optimism is Arias lawyers are arguing the trial to decide if she should die for the brutal killing of ex-boyfriend Travis Alexander should be halted and capital punishment be removed as an option because of an appeals court ruling preventing secret testimony.
Arias and three defense witnesses will refuse to testify in public, preventing a fair trial unless the court can be sealed, according to a motion filed Monday by Arias lawyer Kirk Nurmi. Those timid witnesses include "a longtime boyfriend, a former co-worker and an individual who knew Mr. Alexander before he met Ms. Arias and who would have provided the jury with testimony that Mr. Alexander confessed his interest in child pornography to him," the defense motion says.
Article continues below advertisement
"This ruling has further inhibited Ms. Arias' ability to present a complete defense of her life to the point that should a sentence of death be imposed by this jury, said sentence would be unconstitutional," Nurmi argues.
If she refuses to resume her testimony in open court, then it is likely the judge will strike her secret testimony from the trial record since the prosecution did not have a chance to cross examine her, Karas said.
Arias is also hopeful because of a motion to overturn her murder conviction filed by Nurmi last month. They argue that a key detective deleted files from Alexander's laptop that would have proven he surfed child porn websites.
"This would lead to obvious questions about what else Detective Flores has done to garner a particular outcome in the case," the filing says. "Did he destroy text messages before they were disclosed? Did he destroy e-mails before they were disclosed? Did he discard taped interviews that were not favorable to the state?"
The judge will hear those arguments in court Thursday.
"This is the most upbeat (Arias) has been in months," the insider told The ENQUIRER. "She's ready for this to be over so she can hammer away on the appeal. She's talking about writing a book "when she's a free woman!"
Do you think that Jodi Arias should be sentenced to death for killing Travis Alexander? Let us know in the comments below.