Exclusive
Jodi Arias Shocker! New Motion To Dismiss Murder Conviction Over Claims Key Cop Hid Evidence Travis Alexander Liked Child Porn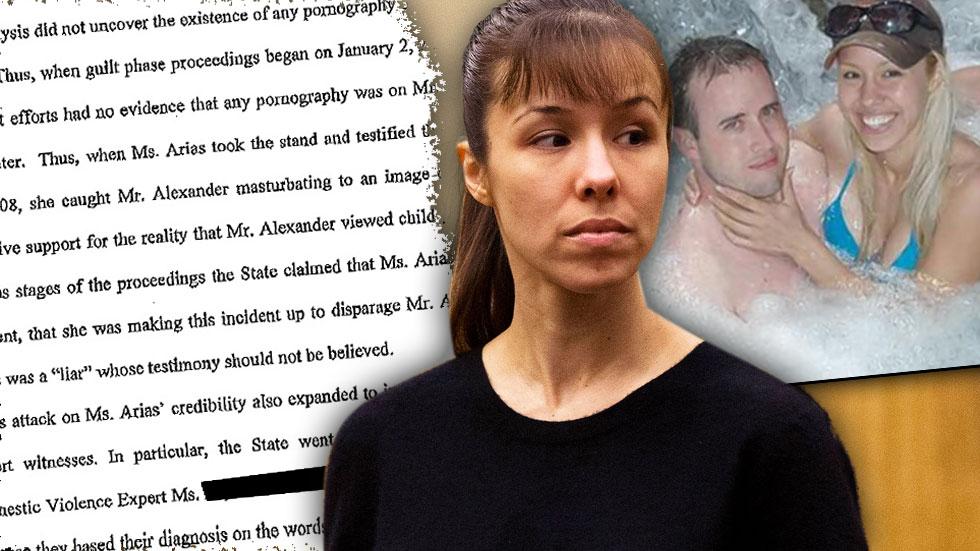 Article continues below advertisement
Arias' lawyers filed a motion to dismiss, obtained by RadarOnline.com, which says a recent examination of Alexander's laptop computer showed someone deleted files which would have shown Alexander visited several child porn sites.
"Specifically, recent forensic analysis has shown that between the times of 13:56:19 and 16:51:43 on June 19, 2009, that thousands of files were deleted from Mr. Alexander's computer," the court filing says. "To clarify further, evidence produced at the evidentiary hearing will demonstrate that this was not some sort of inadvertent forensic error, but instead that someone went into the computer without a 'write blocker' and sought to alter its content, and alter they did, with such a level of success that the state's deceit was not uncovered for several years."
Evidence of child porn would help Arias show Alexander's "sexually aggressive nature," the defense argues.
Detective Flores, the prosecution's Arias case agent, took possession of the laptop during that specific window of time, according to the filing.
After Arias testified at her first trial that "on or about January 21, 2008, she caught Alexander masturbating to an image of a child," prosecutors called her a liar, noting no child porn was on his computer, the motion says. "This, at various stages in the proceedings the state claimed that Ms. Arias was lying about this incident to disparage Mr. Alexander and that Ms. Arias was a 'liar' whose testimony should not be believed."
Article continues below advertisement
The prosecution "knew that the attacks they were making and the testimony they were offering was untrue," Arias lawyers contend. "The state had full knowledge of Mr. Alexander's computer did contain a plethora of pornography and that this computer further contained evidence that Mr. Alexander has a sexual interest in children."
The defense argues that any testimony Detective Flores offered in the murder trial is tainted because he was "willing to purposefully destroy evidence to unlawfully convict and perhaps kill Ms. Arias."
"This would lead to obvious questions about what else Detective Flores has done to garner a particular outcome in the case," the filing says. "Did he destroy text messages before they were disclosed? Did he destroy e-mails before they were disclosed? Did he discard taped interviews that were not favorable to the state?"
The death penalty retrial for Arias is still on hold as the judge deals with an appeals court stay that says she cannot kick reporters and the public from court during testimony by a mystery witness.