Exclusive
Jodi Arias Death Penalty Retrial Put On Hold As She Appears With Possible Signs Of Injury — The Latest Courtroom Secrets Exposed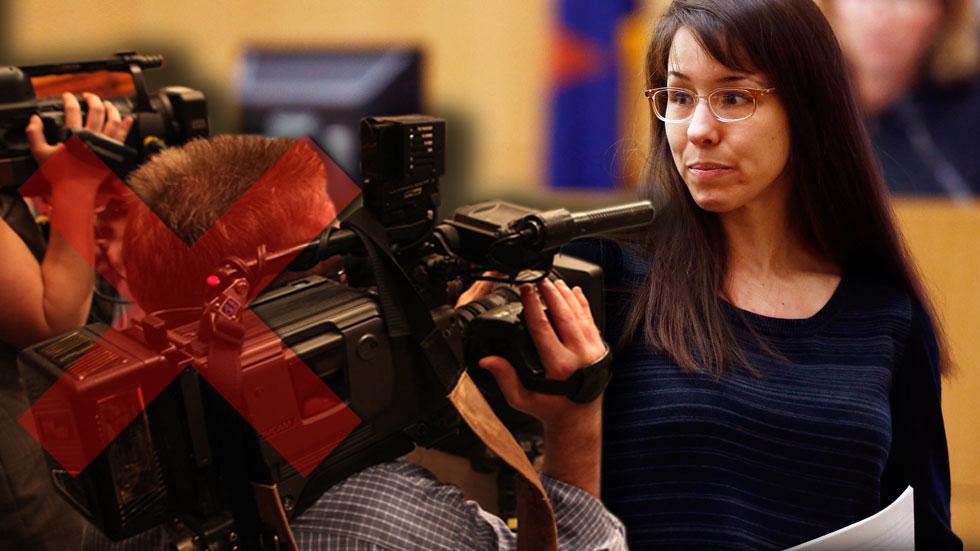 Courtroom secrets have delayed the Jodi Arias death penalty trial for a week and RadarOnline.com has all the details.
The halt comes after Arias demanded that the public and media be booted from court while a "mystery" witness testifies. The judge told jurors to report back to the Maricopa County Courthouse next Wednesday, when the controversy over making the trial secret should be resolved by higher courts.
Article continues below advertisement
Adding to the intrigue, Arias worse a black brace on one wrist as she watched lawyers and the judge meet in a series of secret sidebar conferences Wednesday morning.
Did the convicted killer get injured in a jail fight? Did Arias get hurt in a fall? A Maricopa County Sheriff's spokesman told RadarOnline.com exclusively that he can't comment on anything related to Arias because of an order from the judge.
An appeals court ruled Monday that Judge Sherry Stephen was wrong to toss spectators and reporters from court during the testimony of a secret witness last Thursday. They issued a stay that halted that testimony.
The secret witness told the court keeping the courtroom private was required before he or she would testify. The appeals court concluded that Judge Stephens has less restrictive ways of achieving that, including turning courtroom cameras off and limiting journalists to the overflow room.
Arias defense lawyer Kirk Nurmi objected to the judge's suggestion that the trial continue this week with other witnesses while the privacy decision makes its way through the appeals process. "Miss Arias should not be made to suffer because of what the media has done," Nurmi argued​.