Bill Cosby's Wife Speaks Out On His Sexual Assault Scandal — 'Who Is The Victim?'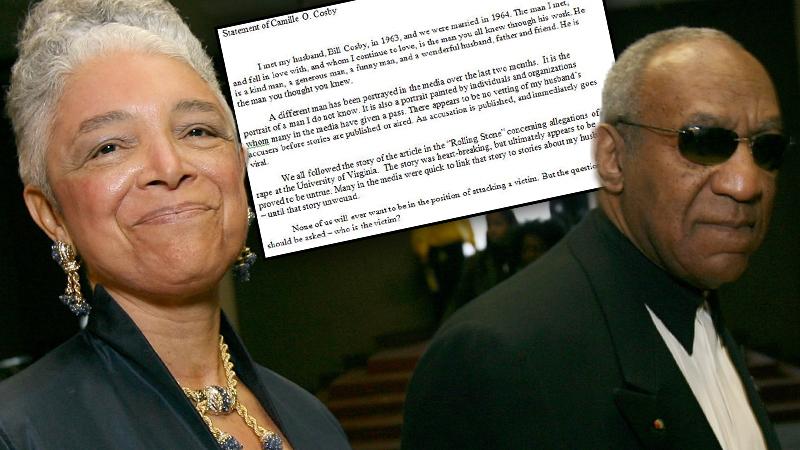 Bill Cosby's devoted wife, Camille, is finally breaking her silence on the large number of women coming forward to accuse the actor of drugging and sexually assaulting them.
"I met my husband, Bill Cosby, in 1963, and we were married in 1964. The man I met and fell in love with, and whom I continue to love, is the man you all knew through his work. He is a kind man, a generous man, a funny man, and a wonderful husband, father and friend. He is the man you thought you knew," Camille writes in a statement.
Article continues below advertisement
She then insists that the media is unfairly skewering 77-year-old Bill over the allegations of sexual abuse.
"A different man has been portrayed in the media over the last two months. It is the portrait of a man I do not know," states Camille. "It is also a portrait painted by individuals and organizations whom many in the media have given a pass. There appears to be no vetting of my husband's accusers before stories are published or aired. An accusation is published and then immediately goes viral."
The beleaguered wife likens the news coverage to the recent scandal a national magazine found itself in when parts of a story about a woman who claimed to be raped later appeared questionable.
"We all followed the story of the article in Rolling Stone concerning allegations of rape at the University of Virginia," points out Camille. The story was heartbreaking, but ultimately appears to be proved untrue. Many in the media were quick to link that story to stories about my husband — until that story unwound."
Article continues below advertisement
"None of us will ever want to be in the position of attacking a victim," she adds. "But the question should be asked — who is the victim?"
As RadarOnline.com reported, Beverly Johnson's accusations against Bill strike the same tone as many of the other recent allegations of sexual misconduct.
"It's nuts, I know, but it felt oddly inappropriate arguing with Bill Cosby so I took a few sips of the coffee just to appease him," claims the former model, 62. "I knew by the second sip of the drink Cosby had given me that I'd been drugged—and drugged good."
Bill's attorney Marty Singer has dismissed previous allegations as "ridiculous," insisting "People are coming out the woodwork with fabricated or unsubstantiated stories about my client."
What are your thoughts on Camille's statement? Tell Radar in the comments below.