Nicki Minaj Apologizes For Nazi Themes Of 'Only' Video, Says Key Decision-Makers In Project Were Jewish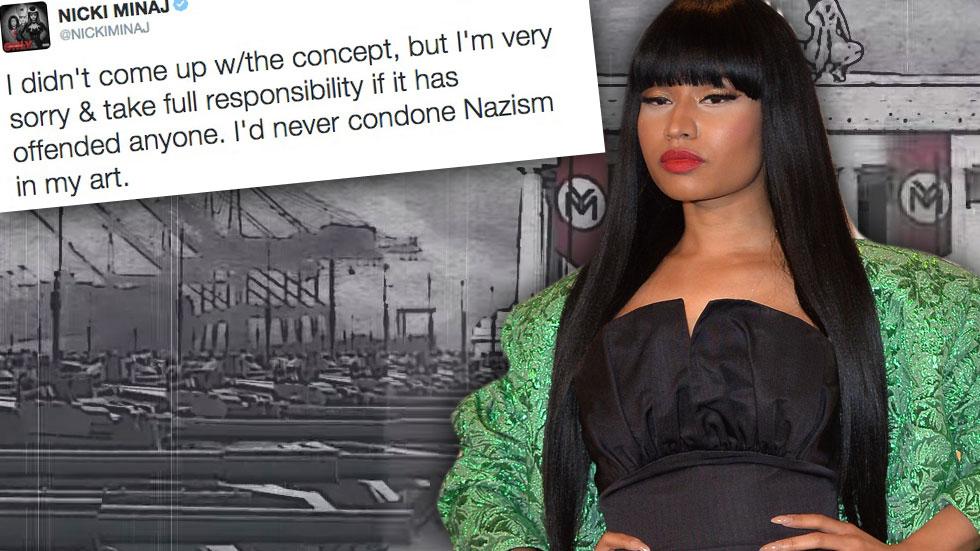 Nicki Minaj quickly apologized Tuesday after taking major heat for her new video "Only," which featured imagery uncomfortably reminiscent of Nazi Germany.
"I didn't come up w/the concept, but I'm very sorry & take full responsibility if it has offended anyone," the singer tweeted Tuesday, days after the video's premiere. "I'd never condone Nazism in my art."
Minaj added that "the artist who made the lyric video for 'Only' was influenced by a cartoon on Cartoon Network called 'Metalocalypse' & the film Sin City," and that "both the producer, & person in charge of over seeing the lyric video … happen to be Jewish."
Article continues below advertisement
Foxman said the Jeff Osborne-directed clip "disturbingly evokes Third Reich propaganda and constitutes a new low for pop culture's exploitation of Nazi symbolism."
He added the timing of the clip was suspect, as it was not-so-coincidentally released in accordance with "the 76th anniversary of Kristallnacht, the 'night of broken glass' pogrom that signaled the beginning of the Final Solution and the Holocaust."
Readers: Does the scandal end with Nicki's apology? Or has she damaged her reputation with the controversial clip?