Exclusive
Outrage! Jewish Group Slams Nicki Minaj 'Only' Video For 'Deeply Disturbing,' 'Unadulterated Nazi Imagery'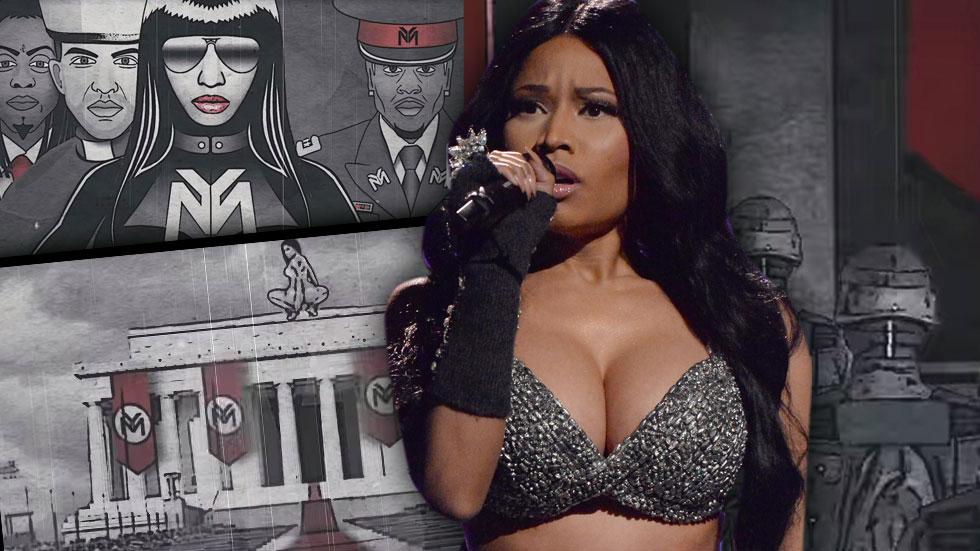 Nicki Minaj's new music video "Only" is "deeply disturbing and offensive to Jews" because of "unadulterated Nazi imagery" that depicts Minaj as a Hilter-like military dictator, an anti-semitism group charges.
The animated video, which features Drake, Chris Brown and Lil Wayne, is eerily like the Nazi propaganda films produced to sway Germans into supporting Hitler's extermination of eight million Jews in Europe during World War II, according to the Anti-Defamation League.
Article continues below advertisement
"Nicki Minaj's new video disturbingly evokes Third Reich propaganda and constitutes a new low for pop culture's exploitation of Nazi symbolism," Anti-Defamation League National Director Abraham Foxman, who is a Holocaust survivor, said in a statement.
The timing of the video's release this week is also disturbing, Foxman said. "The irony should be lost on no one that this video debuted on the 76th anniversary of Kristallnacht, the 'night of broken glass' pogrom that signaled the beginning of the Final Solution and the Holocaust."
The video, directed by Jeff Osborne, depicts legions of soldiers wearing red armbands with a Y-M symbol similar to swastikas worn by Nazi soldiers, the ADL says.
Minaj is surrounded by red banners flown at Nazi Party rallies during World War II, the group further claims.
"It is troubling that no one among Minaj's group of producers, publicists and managers raised a red flag about the use of such imagery before ushering the video into public release," the ADL says.
Article continues below advertisement
The group calls it "insensitive to Holocaust survivors and a trivialization of the history of that era," noting, "The abuse of Nazi imagery is deeply disturbing and offensive to Jews and all those who can recall the sacrifices Americans and many others had to make as a result of Hitler's Nazi juggernaut."
Brown is depicted as a soldier, while Drake — whose mother is Jewish — is shown as a Catholic priest.
​
Controversial music videos are all but expected from Minaj. Her "Anaconda" video's racy dance moves and sexual language drew criticism — and Vevo views — last month.
"I don't know what there is to really talk about," she told GQ magazine about that video. "I'm being serious. I just see the video as being a normal video."
Reps for Minaj, Drake, Brown and Wayne did not immediately respond to requests for comment.