Exclusive
EXCLUSIVE: Mel Gibson: 'I Want Jew Blood On My Hands' - Oksana's Charge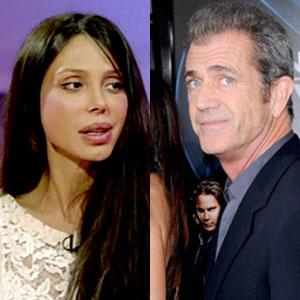 A furious Mel Gibson said, "I want Jew blood on my hands," his girlfriend of three years, Oksana Grigorieva, told authorities who are investigating the actor for domestic abuse, RadarOnline.com has exclusively learned.
It's a fresh example of the hate-filled speech that has helped make the actor infamous.
The anti-Semitic slur was allegedly made by Mel in reference to a high-profile Hollywood figure who is Jewish and who Mel believed had "publicly humiliated" him.
Article continues below advertisement
Gibson hired individuals to place this person under surveillance, Oksana told authorities.
"Oksana says Mel told her, 'I want Jew blood on my hands,' and said he wanted the person taken to the desert, stripped naked, knee capped and left in the heat," a source close to one of the investigations involving Mel told RadarOnline.com exclusively.
Gibson never followed through with his threats.
This is the latest vile remark attributed to the Lethal Weapon star, who targeted African Americans and Latinos in recorded arguments with his ex-girlfriend, played exclusively on RadarOnline.com.
Gibson launched a shameful diatribe against Jews in 2006 during his DUI arrest and said Jews were to blame for all the wars in the world. He asked the arresting officer, "Are you a Jew?"
In one of the audio tapes played on RadarOnline.com, Gibson implied he would report a female staffer to immigration authorities, saying, "I will report her to the f---ing people that take f---ing money from the wetbacks."
Article continues below advertisement
On another tape, Gibson lashed out at Grigorieva, calling her "an embarrassment" before suggesting the Russian musician would be "raped by a pack of n----rs" because of the clothing that she was wearing was too provocative.
Oksana has officials investigating Mel for domestic battery, child endangerment and assault with a deadly weapon that the Oscar-winning actor/director said he had the prominent Jewish figure followed by a team of private investigators in 2009.
"Oksana said Mel had hired people to engage in the surveillance of others," said a source.
"Mel thought this person had publicly humiliated him so he told Oksana that he wanted to break his knee caps'.
EXCLUSIVE: Mel's Text To Oksana After Brawl
"Oksana recalled that she was initially skeptical that Mel could have hired someone to follow this person, but she said Mel revealed in great detail what his investigators had observed from the surveillance.
Article continues below advertisement