Family Feud! Kardashian & Jenner Families Are Being Torn Apart, 'Taking Sides' Following Kris & Bruce's Divorce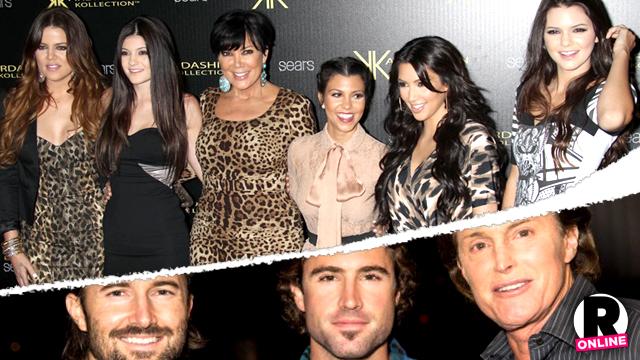 When Kris Jenner filed for divorce from her husband of her husband of 22 years, Bruce Jenner, neither of them knew that this decision could destroy their already divided family and put an end to Keeping up with the Kardashians. According to a new report in OK! magazine, the entire family is at war as the couple's children have been forced to choose sides in the ongoing divorce.
"On paper the divorce might seem very simple and straightforward, but behind the scenes Bruce and Kris absolutely despise each other, and the kids are starting to take sides," a family source says in the new issue of OK!, which is on stands now.
Article continues below advertisement
The source adds that even the outsider brothers Brandon, 33, and Brody, 31, who are Bruce's kids from his second marriage, "Are sick of Kris's schemes and can't stand that she makes herself out to be an amazing mom when all she does is use her daughters for profit."
Kim Kardashian, 34, and he model half-sister, Kendall Jenner, 18, are allegedly at war after Jenner's decision to drop her last name from her modeling cards. What's more, according to OK!, Kendall "has banned her sister from attending fashion shows she's walking in! Kim's used to being the hottest Kardashian, so all of the attention that is being Kendall is crippling her with jealousy. She can't stand that her little sister is getting big-name gigs that would have gone to her in the past."
Kim and Brody, who used to be so close growing up, are reportedly on the outs as well after Brody did not show up to her wedding to Kanye West, 37, but attended her ex-boyfriend Reggie Bush's wedding.
"It was a huge slap in Kim's face," the source says. "Brody knows that Reggie was the love of Kim's life and the snub would hurt her, but he was still angry that she refused to let him bring his girlfriend to her wedding. That was the last straw for them."
Article continues below advertisement
And 17-year-old Kylie Jenner, perhaps caught in the middle, is also said to be dueling with her half-sister, Kourtney Kardashian, 35.
According to the magazine, "Kourtney flipped out on Kylie's relationship with Tyga after she learned that Kylie had come between the rapper and his fiancée, Blac Chyna," who is a close friend of Kim.
"When Kourtney found out she begged Kylie to end the relationship before she ruined her reputation," the source tells the magazine. "Kylie snapped at her and told her to mind her own business and concentrate on her own cheating boyfriend. Kourt lost it and called her a home-wrecker."
At least two members of the bunch have managed to stay out of the current drama – Khloe Kardashian, 30, and the youngest male the Kardashian family, 27-year-old Rob Kardashian.
Whose side are you on? Let us know in the comments below.