Exclusive
Teresa Giudice 'Fuming' Over New Joe Cheating Reports: 'He's Always Had A Wandering Eye'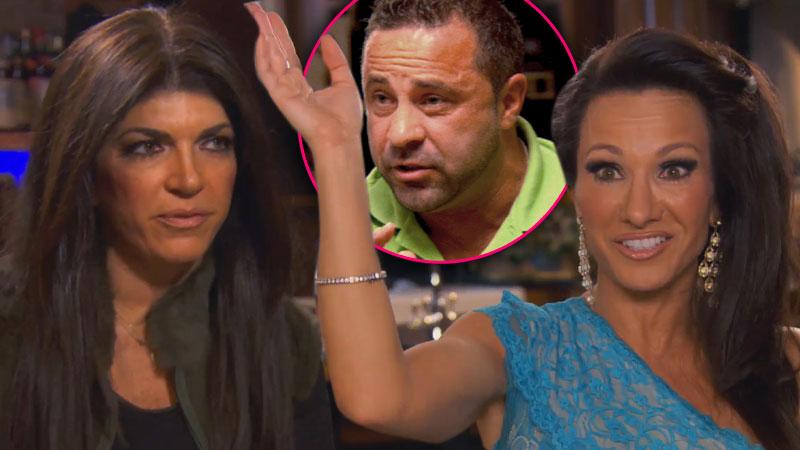 Real Housewives of New Jersey star, Teresa Giudice, is seeing red after Bravo aired Teresa Aprea's allegations that the convicted felon's husband, Joe, had cheated on her. But RadarOnline.com has learned that sources close to the couple are refusing to deny the reports, even claiming Joe would have good reason to be unfaithful!
"Teresa didn't want any of the cheating allegations to air during the season," an insider told Radar. "Bravo agreed, because they were afraid she wouldn't participate in any of the promotional junkets for RHONJ if they didn't."
Article continues below advertisement
But by the time last night's "Secrets Revealed" special rolled around, the source said, "All bets were off! Teresa Aprea made her allegations, and Teresa was absolutely fuming that the rumors surfaced. It's all about public perception for Teresa, and she wants the world to think she is happily married."
Unfortunately, increasingly it seems that is not the case.
"The fact is that Teresa and Joe are miserable in the marriage," an insider revealed. "Joe has hardly been spending any time at home."
And according to multiple sources, he hasn't always been alone!
"Joe has always had a wandering eye, everybody knows it," the source said. "Who could blame Joe if he did cheat? Look at the mess he has to deal with at home!"
Despite Teresa and Joe seeming more in love than ever during the special, Teresa Aprea put cracks in their façade with her comments.
The twin said in her confessional, "Joe, my friends said, 'Oh, in the past he's been a cheater and he hasn't been the best husband.'"
Article continues below advertisement
This isn't the first time the legally troubled reality star has been accused of cheating on his wife.
In 2012, RadarOnline.com reported that he was at TGI Fridays drinking with another woman.
He was also busted having another rendezvous in 2013 with a mystery woman at Legends Diner, only 30 miles away from the New Jersey mansion he shares with his wife!
Teresa even stood by her husband when news broke that he had allegedly cheated on her with their nanny, Nicole Cemelli.
And that might not be the end of it.
The source added, "It will be very interesting to see what happens once Teresa goes to prison on January 5. Don't expect Joe to live like a hermit or a monk!"