Exclusive
Mama June Shannon's OTHER Child Molester Ex Is Incarcerated Multiple Offender: Read Why A Judge Said Pumpkin's Dad 'Needs To Be In Confinement'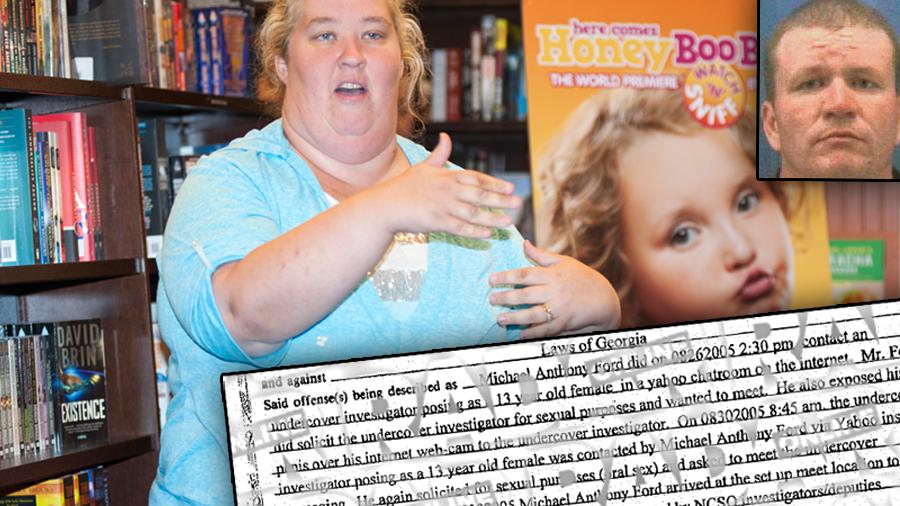 Mama June Shannon does not know how to pick 'em. Only weeks after RadarOnline.com exposed the sick crimes of her child molester ex, Mark McDaniel, RadarOnline.com can now reveal that her OTHER ex, and baby daddy, is currently locked up in a Georgia prison for trying to get oral sex from a child!
Court documents obtained by RadarOnline.com show that Shannon's ex, Michael Anthony Ford, 37, was nabbed in an online sex predator sting conducted by deputies in Newton County, Georgia, in 2005. He was freed after serving two years in prison, but was ordered back behind bars until 2026 for violating his parole by logging on to a teen porn website, the case file shows.
Article continues below advertisement
Instead, RadarOnline.com has learned, Ford was nabbed in a sex sting in August 2005, when he logged onto a Yahoo chatroom to proposition someone he thought was a 13-year-old girl. It was actually a deputy with the Newton County Sheriff's office logged onto a computer in Covington, Georgia, according to the arrest warrant and court testimony.
"During the internet chat, the defendant described to (the deputy) how to perform oral sex on a male," the prosecutor told the court at Ford's 2007 sentencing hearing. He also used a webcam to expose his penis to the deputy, thinking it was a child, according to the arrest warrant.
Article continues below advertisement
In another online chat several days later, Ford asked the investigator — thinking he was a young girl — "to meet him at a local gas station where he would pick up (the deputy) and have him perform oral sex on the defendant."
Ford was released on parole after two years behind bars, but his freedom was short-lived. He was arrested again when a routine check on his Georgia home revealed a laptop, a violation of his parole rules. Investigators also found the computer had been used to surf teen porn websites, according to court testimony.
Ford dug himself into a deeper legal hole when he skipped his court date in June 2013. An escape charge was added because he cut the strap on his ankle monitor and left it along an Alabama highway, his parole officer said.
"If he's going to cut off his ankle monitor and he's going to access teen sex sites while he's a sex offender, he's going to fail to register as a sex offender, he needs to be in confinement," the judge said at his parole revocation hearing. "The balance revoked."
Article continues below advertisement
Ford's two 10-year sentences make him eligible for parole again in November 2026, according to records from the Georgia Department of Corrections.
Before Shannon's recent announcement, Ford spent years unaware that he's Pumpkin's father. He told The National Enquirer in a 2012 interview that he'd learned the teen was his daughter, but he'd only met her a few times because her mother "doesn't want anything to do with me."
"It's sad and aggravating," Ford said. "To my daughter, I'm just 'Michael,' not 'Daddy.'"