Exclusive
Gotti Is Back! Victoria Gotti Reveals Her Son John Is Getting Married — Plus More On The 'Growing Up Gotti' Special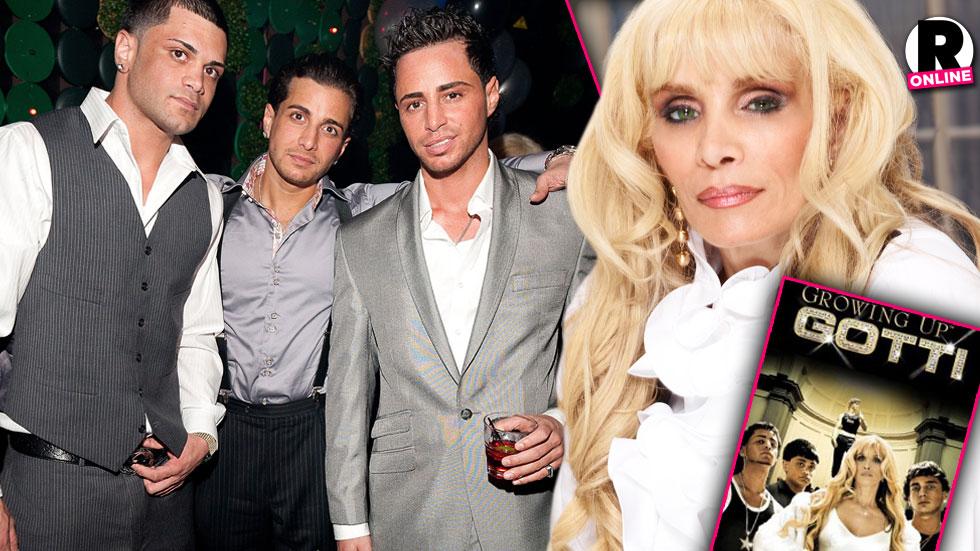 It has been 10 years since Victoria Gotti and her "Hottie Gotti" boys John, Carmine and Frank took over the television screen with their hit show, Growing Up Gotti.
But on Nov. 10, A&E will be airing a special, Growing Up Gotti: 10 Years Later, and fans will get the chance to reconnect with their favorite former reality TV family.
RadarOnline.com caught up with Victoria and got the scoop on everything that has been happening in the family's life for the past 10 years.
Article continues below advertisement
Radar: What has been going on with your personal life since the show ended?
Gotti: I'm working on my novel. I am getting ready to launch a lifestyle website, getting ready to launch a product line. I've been pretty busy also planning a wedding (not for me).
Radar: Is there anyone special in your life?
Gotti: I thought for me, it would never happen again, but who knows? I'm just dating. There's no one special at the moment.
Radar: Whom are you planning a wedding for?
Gotti: One of my sons, John, is getting married, and they've been together a long time. Ten years is quite a bit. The big day is Sept. 25, 2015, and he is marrying a beautiful, beautiful girl. I couldn't be happier. As a parent you just want your child to bring home someone that you know loves them and that you know is going to make them happy. Her name is Alina. They met just before college and kind of saw each other through all of the academic years and they were always good for each other.
Article continues below advertisement
Radar: What's it like planning a wedding with your son?
Gotti: It's so hectic. What we perceive as little details become major decisions. So, it's hard because I think of these things as tedious and not that important in the grand scheme of things, but then again, I think back to when I was the bride-to-be and I realize that they were so important. So, I give that leeway.
Radar: What are the boys doing for a living?
Gotti: John's running a business with his brothers and thankfully, it's very successful. They have four scrap metal plants between Queens, Brooklyn and Long Island.
Radar: How is Carmine doing?
Radar: He's the spontaneous one. But he actually, much to my surprise and I think his, settled in nicely. He is pretty much the organization behind the business. He is also in a relationship. He is seeing a beautiful girl, Natalie. He has been with her more than 2 years.
Article continues below advertisement
Radar: Is he still singing?
Gotti: He definitely misses it, and I catch him all the time when he doesn't think anybody is looking or listening. I know he misses it, but it's a tough, dedicated business. He just doesn't have the patience.
Radar: What's going on with Frank's love life?
Gotti: Frank is involved with someone named Savannah, and he has been seeing her for just about a year. It's new, but they seem very compatible and happy.
Radar: Frank had a weight battle. How is he today?
Gotti: He looks fantastic. He's always in the gym, and he watches his weight. He never really went back to what he called the "gorging."
Radar: Your ex-husband Carmine has since gotten remarried. What did you think about that?
Gotti: When I decided to get divorced, it was a decision where I took everything into consideration. You know that you are closing that door. You know you're closing that part of your life off, it's behind you, you've moved on. And I kind of hoped he would and he did move on and get a new life.
Article continues below advertisement
Radar: Why did you guys decide to do this 10-year special?
Gotti: It was such a special time in our lives. I have no regrets about doing Growing Up Gotti. We were doing this way back when no one else was doing it. It was very jarring, but today, honestly, we all look back - we had some great memories, some great times. I loved working with my own children and traveling with them as a result of doing the show.
Are you excited for Growing Up Gotti to return? Sound off in the comments below!