Exclusive
Battle Royale! 'GMA' & 'Today' Warring Over Prince William & Kate Interview As Couple Trip To U.S. Looms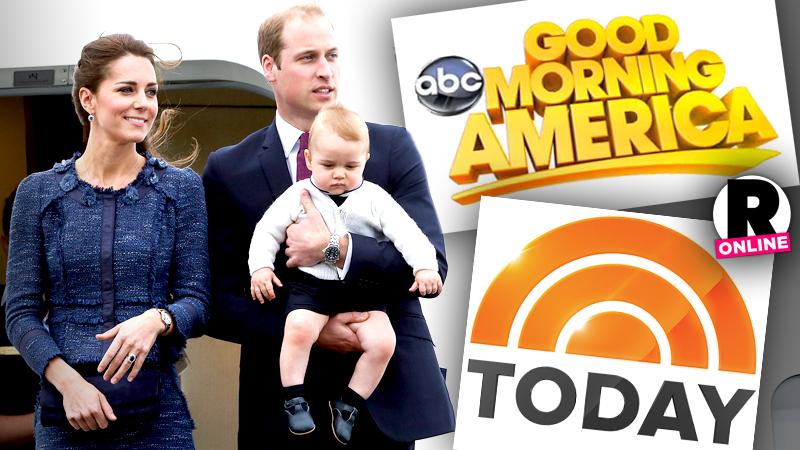 The morning news ratings race between Good Morning America and the TODAY Show is only getting wilder! RadarOnline.com has learned that both programs are eagerly trying to book Prince William and wife, Princess Catherine, for their first joint American television interview during their anticipated trip to New York City in December.
Hoping to secure the big get, both morning shows have recently featured Kate's siblings as guests.
Article continues below advertisement
Kate's older sister, Pippa, is in talks with NBC News to become a correspondent for the TODAY Show, and "the job hasn't formally been even offered to her yet."
"Pippa went on a test shoot last weekend in Wyoming," the source explained. "No decision has been made about whether or not a offer will even be extended because it's just too early in the talks to make that assumption."
"Of course NBC would love to get Pippa, but everyone needs to make sure it will be a good fit for both parties," a TODAY source said.
Pippa was featured on the TODAY Show earlier this year and was interviewed by Matt Lauer, which proved to be a ratings boost.
Upping the ante on Wednesday, Good Morning America booked Kate's brother, James, to discuss his new marshmallow company.
One industry source suspected, "TODAY had made a backdoor deal with Pippa, do the interview with Matt, and get a job as a correspondent."
However, multiple sources close to the situation scoffed at the claim.
Article continues below advertisement
"TODAY got the interview by the book, with no promise of a job, or anything else to Pippa," an insider said. "Period. For anyone to say anything otherwise is just grousing that GMA didn't get the interview with Pippa."
Sources close to Pippa previously told RadarOnline.com that after being approached by GMA following her interview with TODAY, the gorgeous brunette, "Immediately told NBC that she was going to be offered a job by ABC. Feeling more comfortable with the TODAY staff and crew, Pippa wanted to continue talks with the Peacock network."
"As those informal talks with ABC began, Pippa's people approached TODAY, because she truly had such a wonderful experience during her time on- and off-camera with Matt Lauer and the crew," the source previously explained. "Pippa is very business-savvy, and knows there is a demand for her. She is using that to her advantage to get the best deal possible."
Who will be the winner of the morning news wars?
"The viewers!" the source said. "As TODAY gets closer to taking over the number one position once again, both shows will continue to duke it out to get the best guests. It's never been a more fascinating time in morning news, and demands that the networks put on the best show possible every day."