Exclusive
Morning TV Wars! 'Good Morning America' Offered Pippa Middleton A Job Before The 'Today' Show — But Matt Lauer Sealed The Deal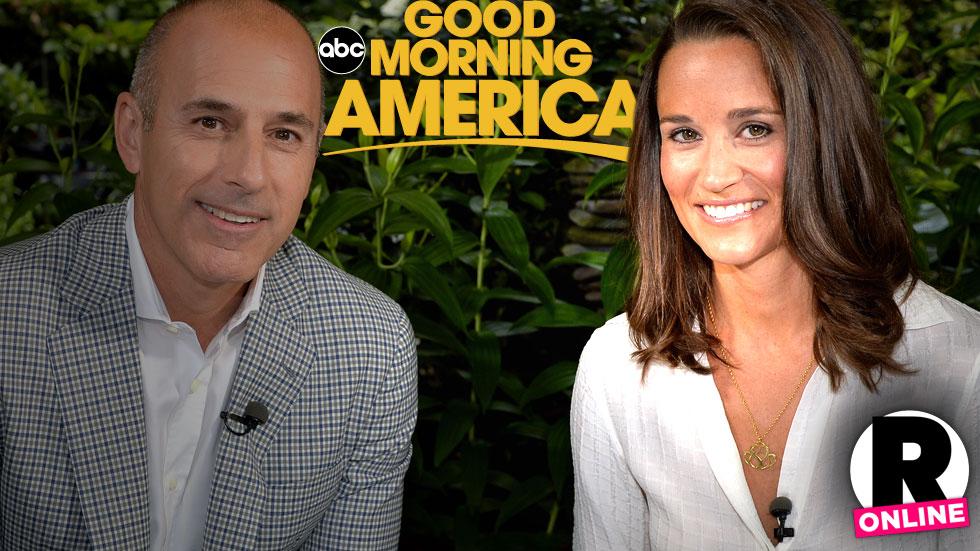 The rivalry between America's two top morning shows is nastier than ever, RadarOnline.com has learned, as they battle over the possibility of landing Britain's most famous sister, Pippa Middleton, as a correspondent. According to an insider, ABC's Good Morning America first approached Middleton about the possibility of joining up as a special correspondent. But sources say she quickly turned to NBC, to see if they could give her a better deal!
Article continues below advertisement
The 31-year-old beauty "was first approached by ABC after they saw her interview on TODAY," an insider told Radar. "There wasn't a formal offer, but ABC executives approached Pippa and her advisers about opening discussions about becoming a special correspondent for Good Morning America."
"As those informal talks began, Pippa's people approached TODAY, because she truly had such a wonderful experience during her time on- and off-camera with Matt Lauer and the crew. Pippa is very business-savvy, and knows there is a demand for her. She is using that to her advantage to get the best deal possible," a network source said.
Insiders told New York Post's Page Six, which broke the story, "TODAY has been doing a test piece with Pippa in Utah, and if it works out well – and it looks like it will – they will hire her as a correspondent."
NBC began coveting Middleton as a potential ratings draw when the Duchess of Cambridge's sister scored excellent numbers for the network during a June interview with host Lauer.
While the interview was a huge boost to the network and Lauer, it reportedly upset Palace officials, who were "furious with Pippa" for the perceived publicity stunt.
Article continues below advertisement
But now, it appears that TODAY "is on track to sign Pippa," a source told Radar. "Nothing has been finalized yet, but the talks are moving in a very positive direction."
Adding Middleton to the TODAY show could help the morning program topple GMA in the morning news ratings race.
TODAY tied GMA on the days that Middleton was interviewed by Lauer.
A rep for ABC News told Radar, "The network is not actively pursuing Pippa Middleton, for a role as a correspondent, and no offer was ever made."
The TODAY show had no comment.