George H.W. Bush Doesn't Even 'Know Who Michelle Obama Is!' Ex-Prez Might Have Dementia, Top Docs Suggest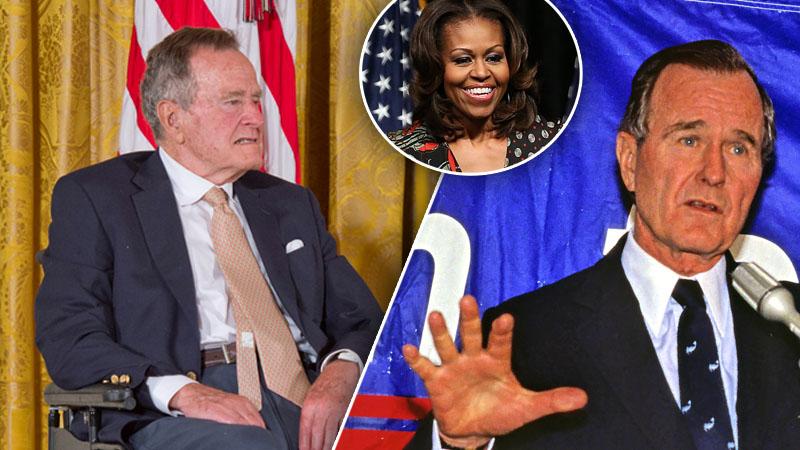 George H.W. Bush recently missed a high-profile White House event, as he's been confined to a wheelchair in his Kennebunkport, Maine estate due to a battle with the disease vascular Parkinsonism — and possibly worse, according to medical experts.
In an alarming revelation, a health expert who hasn't treated the former U.S. president, studying recent images of the 90-year-old political veteran with the current first couple, told The National ENQUIRER that Bush had "an expression on his face that indicates he doesn't know who Michelle Obama is" — signifying possible dementia.
Article continues below advertisement
"I think he has lost quality to his life and has only a short time to live," the expert, Dr. Gabe Mirkin, told The ENQUIRER.
Bush, in September, could not make it to 1600 Pennsylvania Avenue for AmeriCorps 20th anniversary celebration, opting to hold a pledge ceremony from his estate in the Northeast.
The 41st President of the United States is staying "more at home now than he used to be," his confidante Ron Kaufman told The ENQUIRER, noting that the political leader "hates being sick."
Bush has past said of vascular Parkinsonism: "It's strange, but if you have to have some bad-sounding disease, this is a good one to get."
He groused about the painless condition — which damages nerve cells in one's legs — saying, "You tell your legs to move and they don't move."
Arizona arthritis expert Dr. Jason Theodosakis said that while "Parkinson's usually doesn't cause immediate medical problems of its own … anytime someone becomes sedentary, the risk of dying increases."
Bush was hospitalized for nearly two months, from late 2012 until early 2013, with a bronchitis-like cough.
For more details on this, pick up this week's edition of The ENQUIRER.