Exclusive
O? No! Bill Clinton Warns Charlie Crist Not To Align Himself With 'Political Poison' Barack Obama In Fla. Gov Race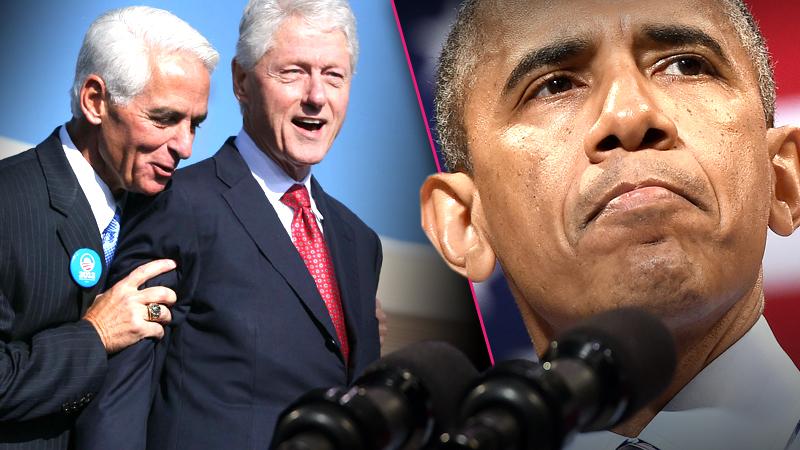 No we can't — at least, not with President Barack Obama! Radaronline.com has exclusively learned that that's what staffers for Florida Democratic gubernatorial candidate Charlie Crist told the pol after he decided to align himself with the President on the campaign trail. Now, even Bill Clinton has weighed in, according to a source, warning Crist that the Prez is "political poison!"
The would-be governor's team had been pushing Clinton and President Obama to make a joint appearance at a campaign fundraiser for Crist before the August 26 Democratic primary.
Article continues below advertisement
What's more, Team Crist "has been pushing Bill Clinton's people for an endorsement before the primary," a source explained. "It's a very tight race against Florida State Senator Nan Rich."
But during a recent political fundraiser for Crist, the Florida Democratic Party's Leadership Blue Gala on June 28, a source claims Clinton told Crist — a former Republican — that his alliance with Commander-In-Chief was going to hurt his chances of winning the election.
"Clinton privately told Charlie at the event that he wouldn't be any endorsing anyone until after the primary," an insider revealed. "He also warned Charlie that his close relationship with Barack could hurt his chances, because he is political poison."
"It was very apparent to everyone in Charlie's camp that Bill had a major problem with his close ties to Obama," the source continued, explaining that "A majority of Charlie's campaign staff are Obama acolytes, including former campaign manager Jim Messina."
Article continues below advertisement
And especially in Florida, such connections could make a difference on election day: According to a recent Public Policy Polling survey, 41% of voters in Florida approve of how the president is performing, while 54% disapproved.
In 2009, then Republican Governor Crist embraced President Obama during a stump speech supporting the $787 billion federal stimulus package.
Many pundits said that hug cost Crist to lose his Senate race to Marco Rubio.
Privately, Clinton "doesn't believe that Charlie will even win the primary," the insider said. "Floridians want a change and that isn't a former member of the GOP. Nan Rich has the momentum, and both Clintons, Hillary and Bill would eagerly campaign for her. It would be very helpful for Florida to have a Democratic governor if Hillary decides to run for president in 2016."