Duggars Not Sorry For Deleting Gay Couples' Pics, Because They Did So 'Without Hateful Words'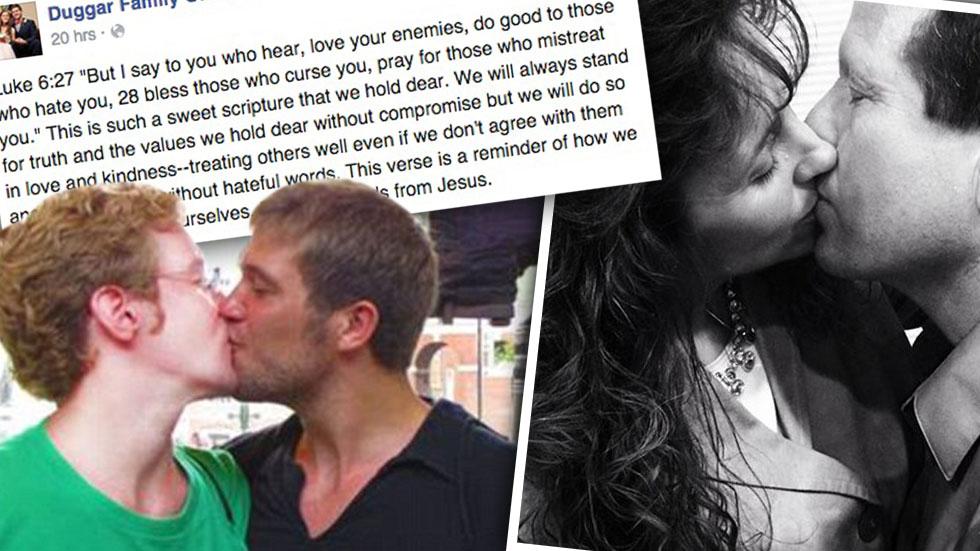 The Duggars are standing their ground.
After deleting a number of pictures of same-sex couples kissing — in response to a social media challenge they put out to their fans — the reality TV clan took to Facebook to say that they feel the quiet, non-confrontational manner in which they removed the images is in line with their religious values.
The family said they "will always stand for truth and the values we hold dear without compromise but we will do so in love and kindness," adding bible scripture to justify their handling of the awkward situation.
Article continues below advertisement
The family posted the verse Luke 6:27, which reads, "But I say to you who hear, love your enemies, do good to those who hate you, 28 bless those who curse you, pray for those who mistreat you."
They called the passage "a sweet scripture that we hold dear," and "a reminder of how we must always carry ourselves," adding that they're committed to "treating others well even if we don't agree with them, and … will do so without hateful words."
MORE ON:
19 Kids and Counting
Post by Duggar Family Official.
As RadarOnline.com previously reported, the entire controversy stemmed out of Jessa Duggar and Ben Seewald's posting of a passionate kissing pic earlier this week, which got the newlyweds a bit of flak.
Jessa's parents Jim Bob and Michelle Duggar then posted a similar shot in support of their daughter, challenging their married fans to do the same. But when gay couples such as Los Angeles residents Charles Chan Massey and Joseph Chan took them up on their challenge Nov. 11, Massey said the post was removed within an hour of its' posting.
In addition, Massey said he "was banned from commenting, liking and posting any comments or photographs on their page," teaching him a lesson "how narrow-minded people can be."
Dozens of other gay couples allegedly received the same treatment, leading the religious family to respond as such on Thursday.
19 Kids And Counting airs Tuesdays at 9/8c on TLC.