Exclusive
Duggar Hate! Jim Bob & Michelle Delete Same-Sex Kiss Photos And Ban Gay Posters From Official Facebook Page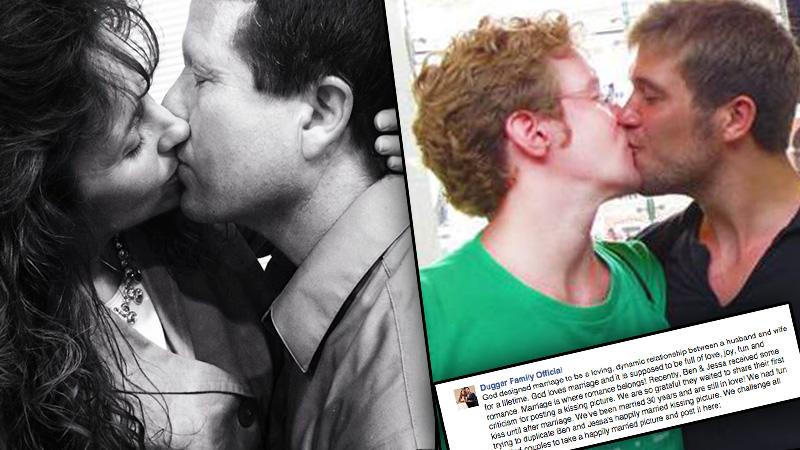 After newlyweds Jessa Duggar and Ben Seewald faced backlash for posting a racy kiss pic on Instagram, her parents Jim Bob and Michelle Duggar called for other married couples to share their love.
"God designed marriage to be a loving, dynamic relationship between a husband and wife for a lifetime," the strict fundamentalist Christian pair and parents to 19 wrote on the Duggar family's official Facebook fan page November 10. "We had fun trying to duplicate Ben and Jessa's happily married kissing picture. We challenge all married couples to take a happily married picture and post it here."
Article continues below advertisement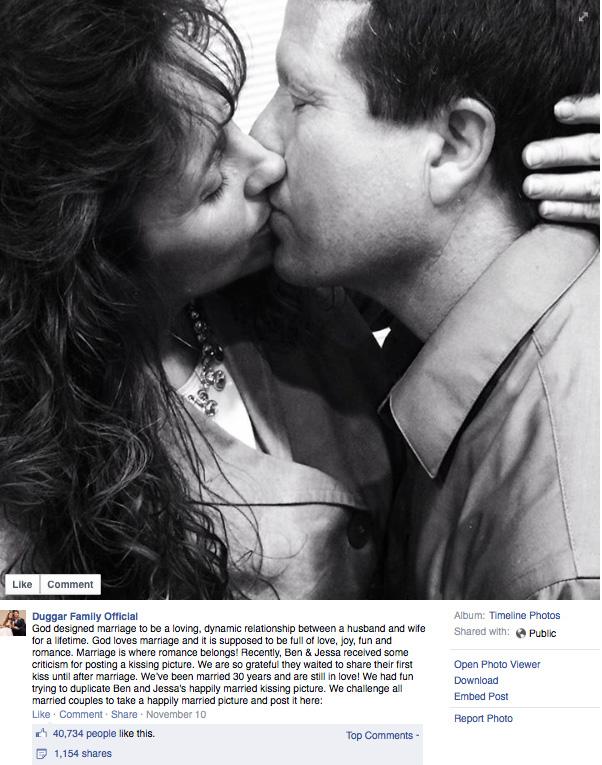 However, the ultra-conservative 19 Kids & Counting reality stars— who have long supported anti-gay lobbying groups and corporations— didn't mean that ALL married couples should participate in their exercise.
LGBT activist Charles Chan Massey exclusively tells RadarOnline.com that he posted a romantic photo of he and husband Joseph Chan kissing beneath the Duggars' "challenge" at around 9:30 am on November 11—but less than an hour later, his post was taken down.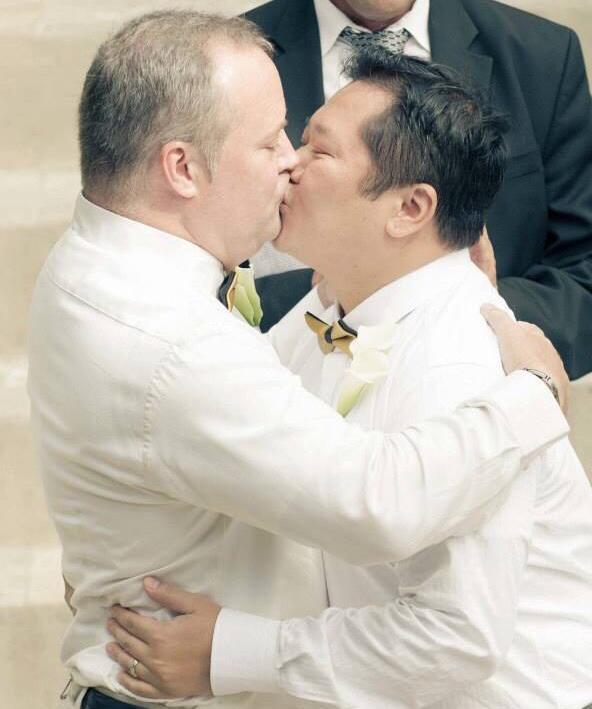 "The caption said, 'Happily together twenty years, legally married one year because we were waiting for the laws to catch up with us, #loveislove,'" Massey tells RadarOnline.com. "My post was soon deleted and I was banned from commenting, liking and posting any comments or photographs on their page."
"We learned how narrow minded people can be," the Los Angeles resident says.
Bilerico Project editor-in-chief John Becker tells RadarOnline.com he also posted a sweet photo of he and husband Michael Knaapen sharing a passionate kiss on the Duggars' page yesterday morning.
Article continues below advertisement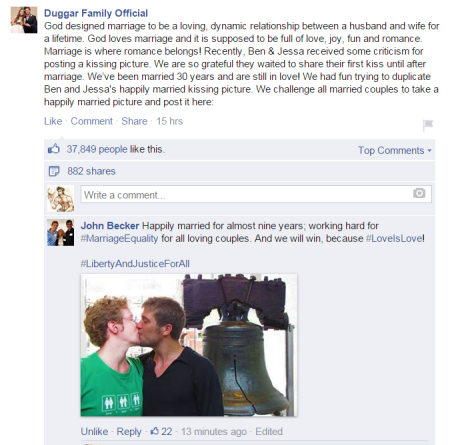 His picture was soon deleted, and Becker found himself blocked from commenting or liking other posts on the page.
"It made me a little sad because there were so many beautiful photos, I wanted to leave positive comments," the Washington, D.C. native tells RadarOnline.com. "I was surprised that the photo was deleted so quickly. It's their space and they have the right to delete what they want, but it says a lot about them how threatened they seem to feel by other loving couples. I thought it was very telling the way they handled it."
It seems that not all Duggar fans are intolerant of gay marriage: Becker's post was liked by more than two hundred people before it was taken down, he says.
"It was a celebration of not just a narrow vision of love, but a broader, more inclusive love more reflective of a 21st century world," Becker says.
When he revealed the Duggars' shocking censorship on his Facebook page, Becker received nearly 500 likes from supportive friends.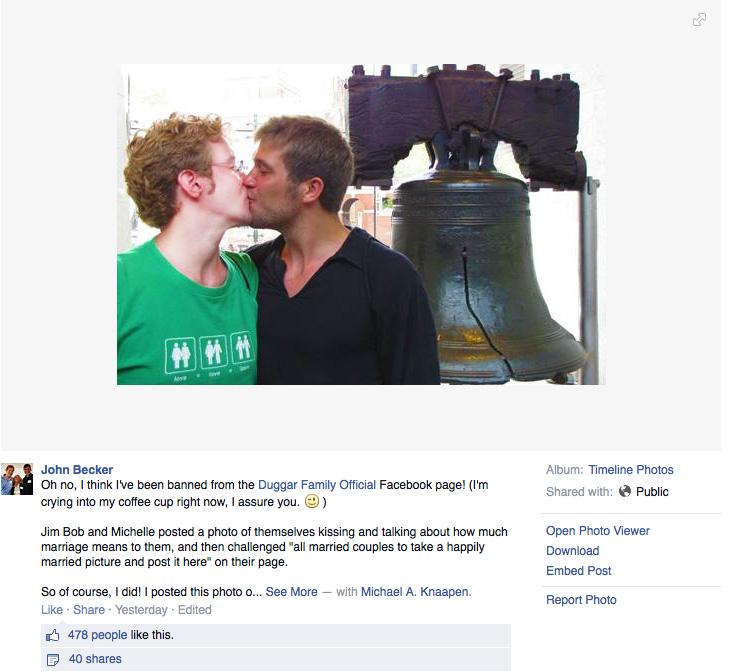 Dozens of other same-sex photos were also allegedly deleted from the fan page.
Have the Duggars gone too far? Sound off in the comments.