5 Highlights From The 48th CMAs: Carrie's Expecting A Boy, Miranda Sets Record & More!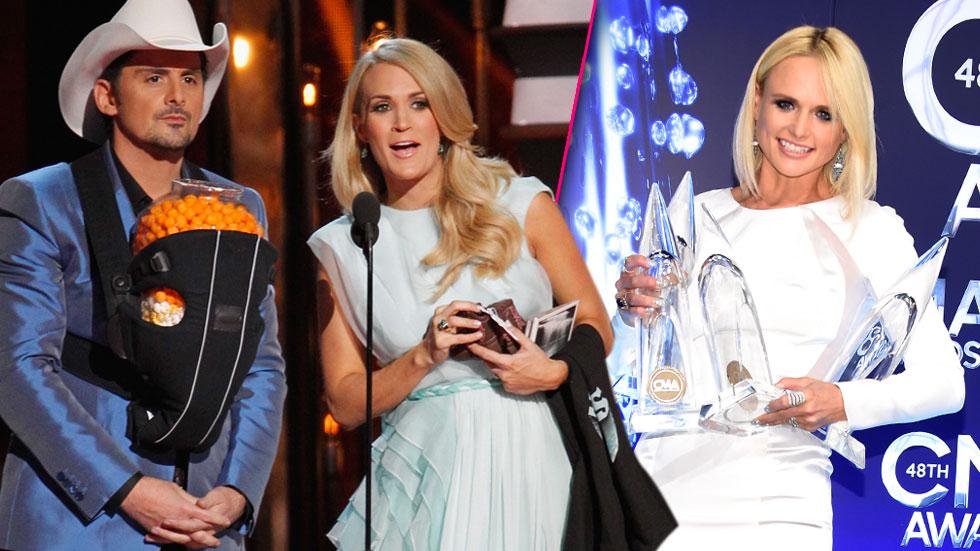 RadarOnline.com has all of the highlights from Wednesday's 48th annual Country Music Association Awards from Nashville, including a special revelation from Carrie Underwood, a huge milestone for Miranda Lambert, and a tongue-in-cheek farewell from the genre to Taylor Swift.
Carrie Underwood Expecting A Boy!
The former American Idol winner, who co-hosted the CMAs with Brad Paisley, is due to have a baby boy, Paisley said during the show's monologue, joking she should name her son after Garth Brooks. "What are you doing?!" the 31-year-old snapped at her co-host. "What is wrong with you? … Well, you kept that a secret for a whole two minutes." Paisley joked, "Hashtag, Brad blew it." The beauty said in September, via Twitter, she's expecting her first child with husband Mike Fisher.
Article continues below advertisement
Watch the video on RadarOnline.com
youtube=https://www.youtube.com/watch?v=HQjmSpELl1o&w=560&h=315
Miranda Lambert: All-Time CMAs Queen
Miranda Lambert has a historic showing Wednesday, as the four awards she collected gave her 11 overall, making her the winningest female artist in the show's history. The 30-year-old took home female vocalist of the year for the fifth year in a row, as well as album of the year for Platinum; single of the year for "Automatic;" and music event of the year for "We Were Us" with Keith Urban. She showcased her skills with a duet of "All About That Bass" with Meghan Trainor. Lambert told the AP her evening was "really unbelievable," adding, "I felt like this whole night was about really celebrating music."
Watch the video on RadarOnline.com
youtube=https://www.youtube.com/watch?v=Ll5w5h1-6p0&w=560&h=315
Swift Departure
Taylor Swift might be basking in the glow of her fast-selling new album 1989, but the country star-turned-pop princess took a few good-natured jabs from the country establishment that launched her career. Paisley and Underwood made a number of cracks about the starlet's crossover success, with Underwood joking that Nashville was suffering from a case of "Postpartum Taylor Swift Disorder," or "PPTSD." Paisley joked, "President Barack Obama doesn't care about PPTSD," to which Underwood added, "I'm pretty sure it's why the Democrats lost the senate." The performers then parodied Swift's exit from the genre, singing, "Who's gonna fill her shoes? Who's gonna stand that tall? Who's gonna be country and poppy and sing a song called 'Tim McGraw?' Country music's just gonna have to shake it off."
Watch the video on RadarOnline.com
youtube=https://www.youtube.com/watch?v=8oknWkpejBg&w=560&h=315
Controversial Humor
Paisley was responsible for the evening's most controversial moments with a joke about ABC's sitcom Black-ish, which was pre-empted by the CMAs. "If you were expecting to see the show Black-ish, this ain't it," he joked. "I hope you're enjoying White-ish." While the punchline drew laughs from the crowd, many viewers took to Twitter to complain about the racially-charged humor. Among them: The account @NilordS tweeted, "@ABCNetwork how racist can you all be right now on the CMAs,discussing President Obama and his democratic loss & the hit tv show Blackish," while @princess_jayci wrote, "I really hope I just heard #bradpaisley wrong. #racist." Still, many others found the joke to be fine, and the phrase "white-ish" even trended on the site during the show.