Headed For A Split? Miranda Lambert And Blake Shelton Living Separate Lives - Report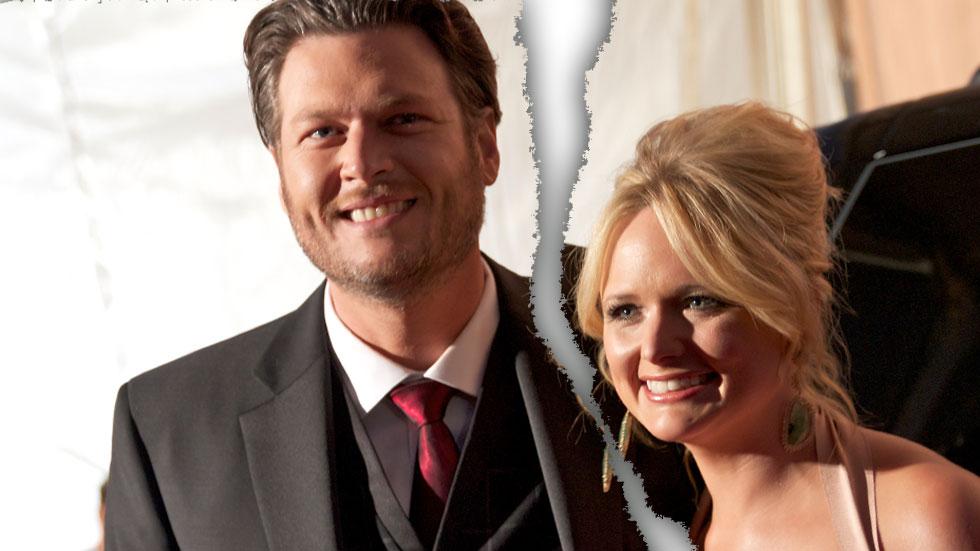 Is the love song over for country music married couple Blake Shelton and Miranda Lambert?
According to the new issue of In Touch, Shelton and Lambert have been leading separate lives for months ever since both started their respective concert tours this summer.
Sources told the magazine that all the time apart – along with trust and lifestyle issues -- have taken a devastating toll on their three-year marriage.
Article continues below advertisement
"They're barely together," a source sighed. "Miranda is worried that if this keeps up, they'll continue to grow apart."
Lambert recently admitted that their tour buses literally pass in the night, heading in opposite directions on the same highway!
And the new report revealed Lambert, 30, can't stand Hollywood while Shelton, 38, enjoys taping The Voice there in his role as a TV reality judge. In fact, the blonde beauty is expected to stay at their Oklahoma home instead of joining him in Los Angeles during his The Voice season, a source told In Touch.
According to the magazine report, Lambert and Shelton no longer drink together because she lost 45 pounds and is following a clean living diet. "She wants Blake to stop partying so hard and get healthy like she did. But he has no plans to slow down," a source said.
Also, the new report says Shelton's reputation as a flirt hasn't helped their marriage and Lambert has "trust issues," although the hunky country singer has staunchly denied cheating.
Article continues below advertisement
As RadarOnline.com reported earlier this year, reports have linked The Voice judge to a month-long affair with singer Cady Groves, 23, after the two engaged in a sexy back-and-forth chat on Twitter. (One source told US Weekly that Blake "swears up and down that nothing happened.")
Shelton's charming ways with the ladies — and history of faithfulness — have raised eyebrows, as when he first hooked up with Lambert, he was married to high school sweetheart Kaynette Williams.
And Shelton has admitted he and Lambert have "had our ups and downs for damn sure."
According to the new report, Lambert is desperate to avoid a divorce.