Brad To Run! Pitt 'Hungry' To Play 'His Rock Idol' Bruce Springsteen On The Big Screen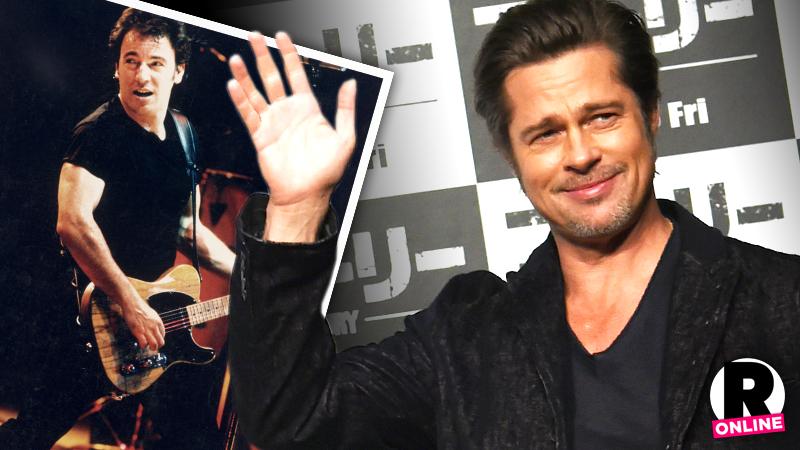 Brad Pitt has "had his fill" of war movies, according to The National ENQUIRER. For his next act, the magazine reports, he has approached his "rock idol" Bruce Springsteen to play The Boss – a role that Pitt feels he was "Born To Run!"
"Brad is pooling his financial resources to raise millions for the project that is tentatively titled The Boss," an insider told the magazine.
The 65-year-old rock legend, who has sold 120 million albums worldwide, "has had offers before and has always turned them down, but Brad's interest has caught his attention," the source said, and Springsteen "now feels it's time" to have his story told.
Article continues below advertisement
"This is Brad Pitt, so he's thinking it over," the source explained.
Aside from the fact that both Pitt, 50, and The Boss are multi-millionaires who each have an Academy Award and a Golden Globe under their belts, "Bruce and Brad share a desire to unite the world, serve the underrepresented and help the working people around the globe," the source added.
"Brad respects all the causes Bruce represents," said the source. "Bruce was there for the people of New York, holding a concert after 9/11 to raise money for the victims, and he always advocates for working people."
For more on the movie plans, pick up the latest issue of The ENQUIRER, on stands now!
Do you think Brad Pitt is a good choice to play Bruce Springsteen? Let us know in the comments below.