Amanda Knox's New Job: Freelance Writer For West Seattle Herald Newspaper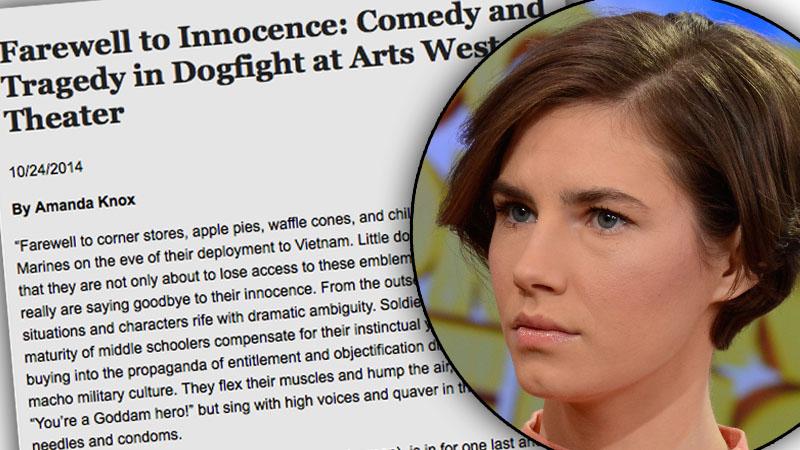 Amanda Knox is trying her hand at journalism, as the defendant in the notorious murder trial that received international coverage has been working as a freelance writer for the West Seattle Herald newspaper.
Knox was infamously twice convicted, and once acquitted, of murder in Italy, in the Nov. 2007 killing of her college roommate, British student Meredith Kercher. She has continually proclaimed her innocence throughout the proceedings.
Article continues below advertisement
Web Editor Patrick Robinson told The Daily Beast that the paper encouraged Knox to write for them, not because of her big name, but "to give her the opportunity of a normal life.
"We simply asked her as we would ask anyone of that age and stage, if they would be interested in writing for us as a qualified writer of that scale and this level of journalism," the editor said. "It doesn't matter what people say or think — the truth is that she's a West Seattle resident, she grew up here.
"Why not give her the opportunity to be an actual human being versus a celebrity?"
Robinson told the outlet that the paper granted Knox's initial request to use a pen name "to give her the protection of that, and to give her the opportunity."
Once Knox "got her feet wet" writing, Robinson said, she began writing under her real name, penning local arts and human interest stories in the Pacific Northwest.
Article continues below advertisement
Robinson lauded Knox as "a very bright, very capable, highly qualified writer," a budding photographer with potential, and a pleasant co-worker.
"She's certainly been through as lot, and been very easy to work with, and very interested and eager in doing stories," he said of Knox, who communicates with the staff through emails.
Robinson said that any future ongoings with Knox's Italian case — including the Italian authorities' efforts to extradite her — will have "little to nothing" to do with her tenure at the paper.
"It's really about giving a young, talented writer an opportunity at a normal life."