Exclusive
Tori's Secret Pain: Tortured 'True Tori' Star Desperately Misses Her Father, Aaron Spelling — Family Friend Tells All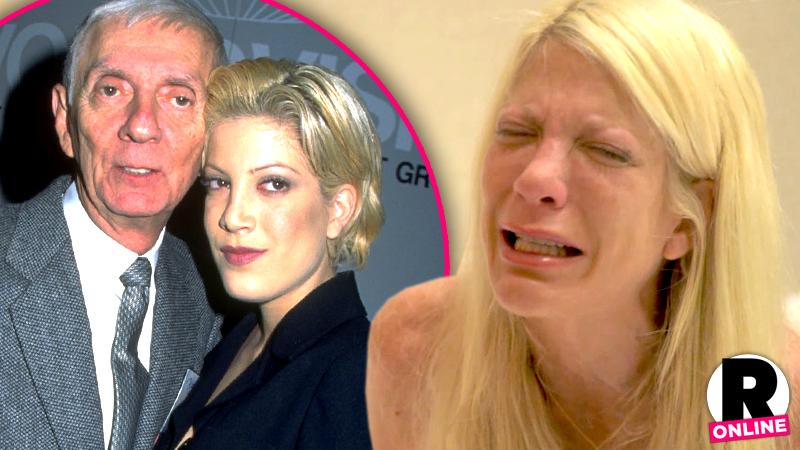 Article continues below advertisement
"I know she really misses him," Dan Kibsey, a close friend of Tori's husband, Dean McDermott tells RadarOnline.com exclusively.
Tori's dad, TV honcho Aaron Spelling died in 2006, leaving behind an estate worth $500 million — of which Tori got very little. What's worse, at the time, her mother Candy claimed that Tori's estrangement from him and her mother killed the entertainment icon.
"I don't know what the anger is. My daughter one day decided that she wasn't speaking to my husband, myself and my son and that's how it's continued for the last, oh gosh, four or five years," Candy said at the time of Aaron's death. "It was sad because that's what killed my husband actually. He just didn't want to live after that. You know, he had done everything … he could possibly do for his daughter and she wanted no part of him once he couldn't do anything for her."
Years later, Tori's regret at his passing, and deep love for her dad, were obvious during a family day out.
Recalling a recent gathering at the family's L.A. Home, Kibsey tells RadarOnline.com Spelling couldn't stop talking about her father.
"It was fascinating," Kibsey reveals. "He was an incredible man. I know she really misses him. She talked a bit about how he became who he was. I was a little jaw dropped. It was a really personal experience. Riding through Beverly Hills in an SUV with her as she told his story."
Article continues below advertisement
And Kibsey believes Tori is carrying on her father's legacy. "I told Dean, 'Your wife is all business!'" he remembers. "Tori is very talented, very smart. She obviously takes after Aaron."
The reality star certainly could use all the family support she can get these days, as she continues to deal with the fall-out from husband Dean's affair on her reality show, True Tori.
As RadarOnline.com has reported, she was hospitalized again in L.A. this week with a mysterious ailment that some reports claimed was stress-based.
Watch the latest developments on True Tori Tuesday night at 9/8 central on Lifetime.