Exclusive
Lock Her Up! Prosecutors Tell Judge 'RHONJ' Star Teresa Giudice Needs Prison Time, Not A Halfway House — Read The Blistering Letter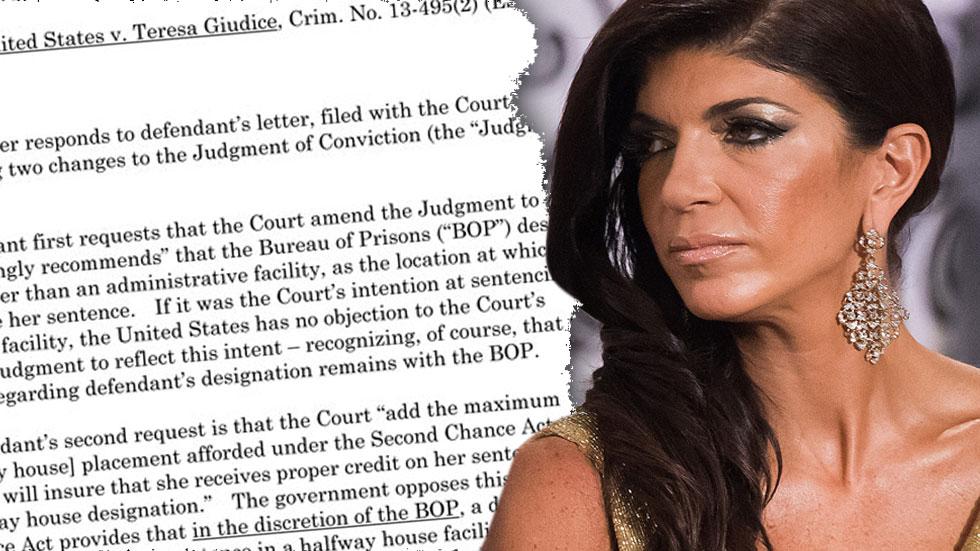 Just one day after Teresa Giudice filed a desperate plea for mercy to the judge in her fraud case, RadarOnline.com has learned that prosecutors have fired back with a blistering letter — telling the judge that Giudice needs to serve time in prison, not a halfway house, to really learn her lesson.
Giudice had asked the court to allow her to serve part of her sentence in a halfway house, as RadarOnline.com has reported. But prosecutors wrote in a letter obtained by RadarOnline.com that "The government opposes this request."
Article continues below advertisement
"Defendant is requesting a substantive change to her sentence," they wrote.
"If the defendant serves the 'maximum' amount of time … in a halfway house, that will mean that she serves 12 months in the halfway house and at most, only three months in prison," they claimed. "And likely less, given the availability of good time credits, and defendant's eligibility, by statute, to serve part of her sentence on home confinement."
MORE ON:
Celebrity Justice
Prosecutors said they would not agree to that plan, especially since it was never raised by all parties at her sentencing.
But it wasn't all bad news. Prosecutors said that Giudice should serve her time at a camp facility, like Danbury or Alderson, instead of an "administrative facility," if the court agrees.
Story developing.